Crime News
Alawa Forest Battle: Nigerian Military Kill Several Foreigners Killing Innocent Citizens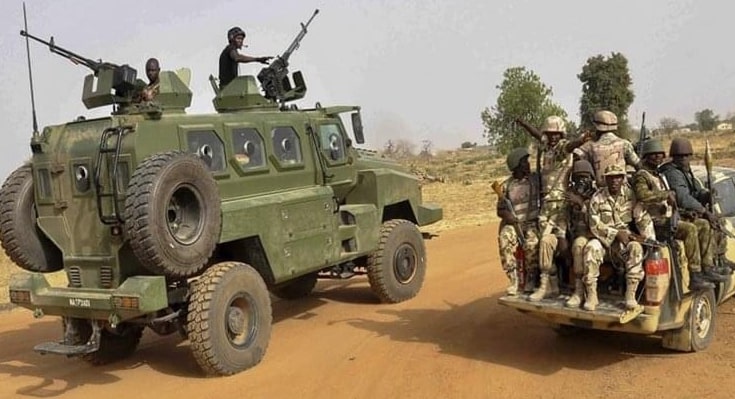 Several armed bandits fleeing the ongoing military operation in Zamfara and Katsina States last Friday afternoon met their waterloo in the hands of soldiers at Maganda village near Allawa in Shiroro local government area of Niger State.
The bandits who were allegedly escaping through the notorious Alawa thick forest,  in their hundreds, ran into the military camp stationed at Alawa, and engaged the soldiers in a serious gun duel for several hours.

At the end of the face-off with the fleeing hoodlums by the military, one soldier was allegedly missing while scores of the armed bandits were neutralized, as several others escaped into the forest with bullets wounds.

Those who escaped with serious bullets wounds were still being trailed by the soldiers as the entire forest was being combed in search of the escaped ones.

About six machine guns and several AK-47 riffles and bags of live ammunition were said to have been recovered from the bandits.
According to a source close to Alawa community, who would not want his name to be mentioned in the print during a brief chat with the journalists at the weekend in Minna,  most of the bandits killed all resembled  foreigners as they have no resemblance of Nigerians.
"In fact, from the dead bodies that littered the ground and seen by us, they are not Nigerians, these are foreigners, all of them are carrying long hair like females.

"They don't have resemblance of Nigerians and they didn't know the terrains that was why they ran into the soldiers because they did not know that there were soldiers' camp there," the source added.

The very reliable source however revealed  that though one soldier was said to have been killed by the bandits, but the soldiers recorded a huge success by killing several of them, saying, "as I speak with you now, the bodies of the bandits killed are still littered in the bush."
This is one of the major breakthrough recorded by the military in its war against armed bandits in the state in the recent times.
It could, however, be recalled that the bandits had around April this year, invaded the military base in Alawa, and killed five soldiers and a mobile policeman.
At the time of the attack on the military base, the entire military camp was set on fire by the armed bandits who invaded the base at about 3:00am when soldiers had just returned to their base from area patrol.
After the invasion of the military base, the bandits moved to the nearby community where they were said to have killed about seven persons and abducted a number of villagers.