Crime News
Nigerian Student Delivers & Dump Baby In Pit Latrine Toilet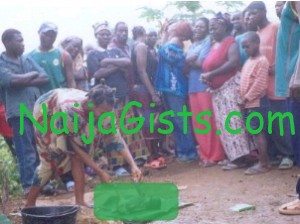 Jan 9, 2013 – Nigerian Student Delivered & Dumped Baby In Pit Latrine Toilet
The News Agency of Nigeria (NAN) reports that the residents, who were attracted by the cry of the baby, had to break the latrine to remove the baby girl allegedly delivered by a 21-year-old student. The suspected mother, an unmarried secondary school student, allegedly induced the delivery of her seven-month-old pregnancy and threw it away.
The suspect, however, ran out of luck when a woman, who runs a beer parlour, went to use the latrine and heard the cry of the baby.
"I was preparing for business around 8 a.m. when I suddenly became pressed but when I stooped to ease myself, I was startled by the cry of a baby. "After paying close attention, I discovered that the sound was coming from inside the pit latrine, so I quickly drew the attention of some youths who broke the pit and brought out the child.
Mrs. Martina Lucious, a retired nurse, who was at the scene, said the baby was brought out with maggots all over it. "In fact, some maggots were coming out from her mouth, ears, nose and navel. "In seeking to find out who was the mother, we asked around to find out if there was any pregnant girl or woman around the area. "After a thorough investigation, we gathered that Blessing was seen coming out of the pit latrine at 7 a.m. with blood stains on her wrapper.
"We traced her and asked her if it was her baby but she initially denied and only confessed after some boys dealt her some slaps. "She confessed it was her baby but again lied that she dumped the baby in the pit latrine because the infant came out already dead. "But since the baby was still alive, we rushed her to the Manchok Primary Health Care Centre for medical attention, while Blessing was taken to the police station," Lucious said.
Mrs. Batholomena Abba, a senior community health extension worker at Manchok Primary Health Care centre, confirmed receiving the baby at the centre. "The baby was brought in with maggots in her mouth, ear, nose and umbilical cord. We were terrified but we did our best to clean her up before the police arrived.
"When the police came, we advised them to take the child to a medical doctor for proper medical attention because the situation was precarious," Abba said.
The police took the infant to the Rural Hospital, Kaura, where the medical officer, Dr. Mercy Ationg, told NAN that the child was brought in dead. "There was no was way a premature birth of seven months could have survived such ordeal," Ationg told NAN.
[NAN REPORT]