Crime News
Nigerian Tortured By Indian Racists In South Delhi Hospitalized As Police Arrest His Attackers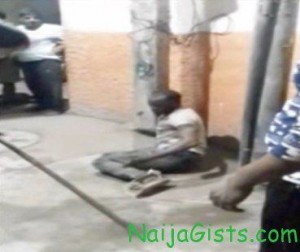 Oct 12, 2017 – 5 Indians Who Brutalised Nigerian Man In Delhi Arrested
Nigerian Beaten To Stupor By Indians In South Delhi Hospitalized As Police Arrest His Attackers
Police in South Delhi, India have detained 5 men over the brutalization of a Nigerian citizen  simply identified as Ahmed.
The 27-year-old from Nigeria was accused of burgling a house belonging to one Kumar Krishan in Malviya Nagar area of New Delhi
In the video, Ahmed was seen tied to a pole, while some men – many of whom have been identified by the police – beating him with sticks.
The men caught on CCTV footage were arrested after a doctor that treated Ahmed after the attack reported them to the police.
The locals who brutalised Ahmed confessed they launched the attack after he was caught with a wire cutter and a bag with master keys with him.