Crime News
Nigerian Woman Arrested For Stealing A-Day-Old Baby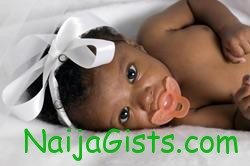 Nov 28, 2011 – Nigerian Woman Arrested For Stealing A Day Old Baby
A Naija woman in her mid-30's was arrested for allegedly stealing a day-old- baby at a hospital in Umuahia.
The arrest was confirmed by Mr Geoffrey Ogbonna, the Police Public Relations Officer (PPRO) on Friday.
According to him,the suspect was caught at Nkata Ibeku area of Umuahia where she curdled the little baby with cloth in her room. The suspect  is said  to have been married for more than seven years to a man working with  a construction company, but they have yet to be blessed with a child.
 Mr Augustine Samuel, the father of the stolen child, said that, his wife, Uchemma, was delivered of  a baby boy on Nov. 10 at about 7. 30 a.m  at a hospital on Enugu/Udi Street, Umuahia. Samuel said about 7. a.m  the next morning, his wife left the child on her hospital bed to have a bath, but discovered on her return that her baby had disappeared.
"When I got to the hospital a few minutes later, we searched everywhere in and around the hospital but were unable to find the baby. From the hospital, I moved straight to our church and cried on to the Lord in prayer and the next day, police sent information to us to come and recover our baby,''  he said.
Ogbonna said  that the stolen baby was recovered at Nkata Ibeku following information to the police by a responsible Nigeria.
The PPRO also said that the suspect had earlier claimed she adopted the child from a hospital, but later confessed she stole the baby from Anelechi Hospital due to alleged pressure from the husband.
Mr Ogbonna, who condemned the act, commended the informer, and urged Nigerians to also partner with the police to fight crime in the country. He said that the matter was still being handled by the Criminal Investigation Department (CID) of the Police Command. He said that the suspect would be charged to court when investigation's finished.