Hot Gists
Nigerian Woman Delivers Triplets In 12 Childbirths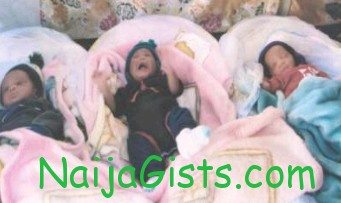 Oct 29, 2012 – Nigerian Woman Delivers Triplets In 12 Childbirths
Malama Delu Alhaji-Ali, a 46-year-old housewife of Unguwar Namanda village, Faskari Local Government Area of Katsina State, on Saturday gave birth to a set of triplets in her 12th consecutive childbirths.
News Agency of Nigeria correspondent who visited the area, reports that the woman was delivered of the triplets at the Comprehensive Health Care Centre in Faskari.
Hajia Binta Suleiman, the nursing officer in charge of the health centre's maternity ward, told NAN on Sunday that both the mother and her three baby boys were in stable condition.
Suleiman said Delu was delivered of the babies unassisted. She said the mother had been on admission in the hospital in the last four days when officials noticed that her expected date of delivery was fast approaching.
"Delu attended regular ante-natal clinics, and she was advised to go for an ultra-scan where we noticed that she was expecting triplets," Suleiman said.
Suleiman said the set of triplets were the first recorded in the hospital this year and urged Delu's husband and relations as well as the local government authorities to assist her by ensuring that she had access to nutritious foods.
Meanwhile, the wife of local government caretaker committee chairman, Mrs. Sa'adatu Faskari-Ahmad, has donated some clothes and money to the mother and her babies.
Faskari-Ahmad congratulated Delu, stressing that the triplets were a rare and extraordinary blessing from Allah.
In her response, Delu expressed appreciation for the gifts and the support she received from the hospital workers.
She told NAN that the triplets came in her 12th childbirth, while all her previous 11 births were single babies.
Delu, however, recalled that before giving birth to the triplets, she experienced some abnormalities during the initial stage of the pregnancy.
She said that although the responsibility of taking care of the babies would be quite challenging for her, she would overcome the challenges with God's support. (NAN)