Hot Gists
Nollywood Actor Chiwetalu Agu Life Story & Biography Unveiled In New Interview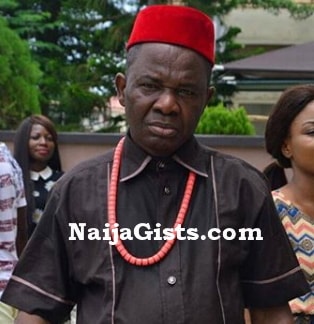 In this new interview with Vanguard reporter Fred Iwenjora, veteran Nollywood actor Chiwetalu Agwu unveiled his never before told life story.
Enjoy the excerpt
My Early Years
I was born on 5th March 1956 in Enugu and named Christian Ogbonna Chiwetalu Agu. It was fashionable to be COC Agu just like MI Okpara or KO Mbadiwe or COC Chiedozie, famous school administrator.

I attended Ogui Primary School, Ogui, Enugu, from 1962 to 1967. I later transferred to St. Luke Primary school Ogui Urban Area, Enugu, from 1970 to 1971. After primary, I proceeded to College of Immaculate Conception (CIC) Uwani, Enugu, from 1972 to 1977 before going abroad to study dramatic arts.
How did you start out as an actor?
It was during my years at College of Immaculate Conception CIC Enugu that the talents showed and I had to pursue acting well with the kind assistance of someone who believed in my ability. So you see that. I studied acting. I did not just stumble on it. I believe it is a calling. I enrolled from 1977 to 1981 and obtained a Bachelors degree in Dramatic Arts from the MUNCHEN College, Former West Germany.
Tell me more about your schooling and stay in Germany?
My going off to Germany was facilitated by Mrs. Helen Joezck, wife to my late Uncle, the first lawyer in the whole of Udi Local Government. Barrister JDC Agu was a trail blazer who built the famous Amokwe House on Agbani Road, Enugu. Auntie Helen made it possible for me to study at Munchen, Germany and all members of that family including three sons made my stay and study in Dramatic Arts in the school stress free.
What were your first acting opportunities?
It was when I had returned to Nigeria that I enrolled and completed the mandatory National Youth Service in Jos. It was also then that I started professional acting and formed a theatre troupe called INSPIRERS Theatre Group in 1983 with loads of performances around Nigeria.
It was this group that was sought after when the performance was intricate both in Enugu and around Nigeria. I became guest actor, writer, and co-producer and co director at Nigerian Television Authority Enugu and former Anambra Television Channel 50 Enugu which was set up by then Governor Jim Nwobodo until 1986 when I was drafted into playing the role of ANIIKWU in THINGS FALL APART, the famous NTA network drama. The character was one of the fathers-in-law of the character OKONKWO, the leading character. You were Christian and later became Chiwetalu…
what caused the change in name?
It was in the early 80s that the name change from Christian Ogbonna Chiwetalu Agu came about. I see it as divine destiny. I started feeling more African. I recalled how my late grandfather Chief Job Chiwetalu Agu, a renowned community leader and leader at Olokoro Council in Eastern Nigeria trekked over 18 miles from Amokwe my home town to Enugu when he was 117 years to baptize me with his Igbo name Chiwetalu in 1956 when I was born. He died at 120 years.
I had started my acting career with Christian but I believe it is by divine destiny, when I changed to Chiwetalu that is Chiukwuwetalu (what the big God has brought) my career picked up meteorically and I have not stepped back. Now I want to be referred to as Ambassador Chief Chiwetalu O. C. Chiukwuwetalu (no more Agu). All former documents remain valid (hahahahahah).
What would you say is the place of NTA Enugu and the Anambra Television in your acting career?
The place of the NTA and Anambra Television in my taking off in the business of acting must be noted. The two were my major launching pads from 1981 to 1986. It was while acting in drama series on NTA that I got a role of Aniikwu in Things Fall Apart. It was my soap opera The Advocate that took me to Lagos NTA headquarters for co-production. It was within this period that I got co-opted to be part of Ripples by Zeb Ejiro. It was the longest running soap ever on NTA and I doubt if that record has been beaten.
Ikuku is one of your earliest films; how did you get the role? I had been part of the audition for Living in Bondage. Chief Kenneth Nnebue had invited me to his office at Adesina street, Ijesha, Lagos. He had seen me in Ripples directed by Zeb Ejiro where I played the role of Chief Abunna. However, somehow when the production started, I was not around to be part of the shooting. I later joined him to do Taboo where I played with Nkem Owoh. It was Nkem that cast me in Ikuku. Since then, it has been a roller coaster.
Over 950 films and still counting, you are really a record breaker? Any listing for some of the films you did?
It will be very difficult to count or name all my films at the stretch of the finger because they are numerous.
But I have counted 950 films till date since 1981. I believe that this is a Guinness Book of Records material. I doubt if any actor in Africa as well as the world over has such a record. Then you add it to the 52 awards I have received from several groups and organizations and from Enugu state my state of origin. I am happy that my state has honored me twice. First, Governor Sullivan Chime presented me with most innovative actor of the year 2014. Again, I got The Celebrity Award 2018 by Enugu state through the Enugu Youth Summit.  I am grateful to God for all these awards and recognition.
Are you still in touch with Germany where you lived and studied?
I should have been but my uncle, my father's younger brother Barrister JDC Agu died in 1977 and his German wife Auntie Helen Joerck who facilitated my education in Germany also died in late 90s. My cousin, their first son died in early 2000s. Their two other sons Mike and Donald frequent Nigeria on business and personal purposes. In fact they were with me in Columbus Ohio when I went to pick up Best veteran actor award in 2014. Donald just returned to Germany from a visit to Nigeria recently.
How do you feel being seen as Nollywood's most treacherous man?
I do not feel any way because I know I am just acting. It is unfortunate for those who only see the bad character roles. I am just an actor anyway; a well trained one at that who can play all kinds of roles. Directors discovered that treachery is an acting style I am at ease with and started casting me like that since 1994.
Can you see yourself playing another role other than the one you currently play?
I am a very professional actor who can play any roles and producers know about my versatility. They have also cast me in many other roles even many of comedy only that many see the treacherous roles more than the others. My 950 films may not only be about a bad guy.
What do you consider the secret of your still being relevant in an industry that is said to use and dump?
I give all the glory to Almighty God for the talent. I form clichés and signatures for every of my movies with ease and I have never repeated such clichés.
I find a catchword, signature and byline for all the movies and I give God the glory for making it look easy.