Nollywood
Nollywood Actor Vincent Opurum Wife Salma Aminu: I Met My Husband On A Movie Set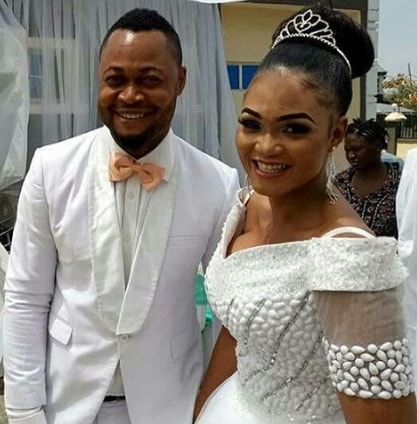 Newly married actress and producer, Salma Aminu-Opurum, has revealed that the first time she met her husband, Nollywood hunk, Vincent Opurum a couple of years ago, she did not like him because she felt he was a womaniser.
In an exclusive chat, the thespian who is currently woking on her new film entitled, Traits, went down memory lane, recalling how both hooked up on a movie set.
"We met on a movie set. I didn't even like him before then, because judging from a distance, I saw him to be arrogant and a womaniser. However, when we finally met on set, I immediately realised what lots of people hardly noticed about him. I could see beyond the surface and I realised that apparently, he gets shy when he is meeting someone new for the first time.

"Immediately I realised that, I used it to build my confidence around him, because initially, I was having mixed feelings and didn't know how I would act alongside an arrogant fellow. In the process of shooting and moving from one location to the other in his car, I taunted him on different issues not knowing I was helping him overcome his shyness around me and the emotions were also building.

"I wouldn't use the same line as every lady out there by saying it took awhile before I accepted to date him because the emotions were there for me too; it was a mutual feeling, so it wasn't difficult to click when he finally asked me out," she explained.
How were they able to conceal their affair from prying eyes in the industry? The actress breaks out in laughter as she responds:
"We were able to keep our relationship out of the media because for us, we didn't mix business with pleasure. We knew when to draw the line when it comes to work, so people saw us as just friends."
Was it love at first sight and who made the first move?
"He made the first move of course, and no, it wasn't love at first sight because we were first of all friends before we became lovers. And he is still my friend. Nothing as good as marrying your friend. We dated for a year and asking me to marry him was made private not public, and yeah, I liked that."
Now that she's married, what if her husband asks her to dump acting, would she comply?
"First of all, the man I am married to won't ever ask me to do that. He is a supportive person which was part of what attracted me to him; he is down with whatever makes me happy," she said.
[Interview credit: Sunday Sun]