Hot Gists
Nollywood Gays & Lesbians Are Members Of Queen Of Heaven Occult Group – Pastor Azuka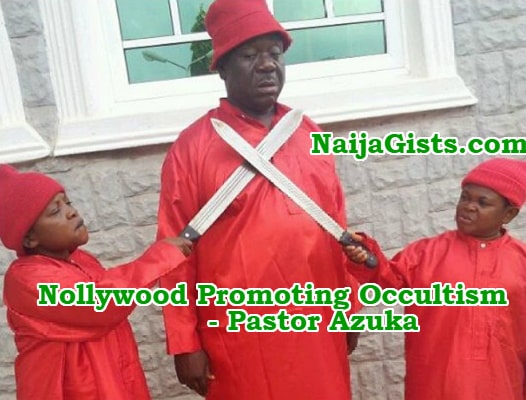 By Okafor Joseph, SpringNews NG
Nigerian Nollywood Movies Promoting Occultism & Winning Soul For Satanic Kingdom, It Is A Treat To Our Children & Future Leader – Pastor Ohesz Azuka
Nollywood  Actors Who Are Gays & Lesbians Are Members Of Queen Of Heaven Occult Group, Most Nigerian Movies Promoting Occultism – Pastor Azuka
Satan Is Using Nollywood Movies To Win Souls To His Kingdom 
A former deeper life Church Pastor and the founder of Kingdom Power Int'l Center aka Solution Ground in this chat with Spring News Nigeria speaks about implications and effects of occultic Nollywood movies on the future of Nigerian children.
Pastor Ohesz Azuka also explained the threat most negative Nollywood movies will pose to our children, the future leaders of Nigeria.
Pastor Azuka added that most occultic Nollywood Movies are dedicated to queen of heaven, an archangel winning souls for satan in Nigeria.
See interview excerpts below:
Who is this Queen of Heaven?

 Queen of Heaven is one of the falling demonic angels cast down from heaven with devil their master. Among the classes of demons, queen of heaven is among the greatest angels in satanic kingdom, Ephesians 6:1, Jeremiah 4:1,6:1 describe him as the archangels' of Satan hanged on air.

There are different of type principalities, rulers of darkness of this world, spiritual darkness in high places, in line with the queen of heaven, who controls the affairs of the air of this world.

Queen of heaven is based on earth dominating and winning souls for the kingdom of Satan.

Most Nigerian actors, producers, musicians, comedians are into this occult managed by the queen of heaven where they sell their souls and that of their families, in other to make big success in the industry they belong.

How can you identify Nollywood Movies dedicated to Occult Managed by Queen of Heaven

Those movies with negative background, movies with various occult signs, occult gathering with symbols or occult languages, demonic music sounds, movies with nudes, where you see men and women messing up themselves, touching sensitive parts of their bodies, movies with native doctors or herbalist shines, witchcraft gathering, marine queens or queen of the waters, movies talking about gods of the air, land and gods of the water.

Such, movies talking about the evil forest or ancestral kingdoms or powers or gods of lands are demonic. Those movies are dedicated to satanic kingdoms in order to record big sales and also win awards and top chart in the industry.

There several Nigerian Nollywood movies, when producing them, most of the workers or actors dies during the process, they used as a lamb of sacrifice.

Most of this actors or producers make huge to commitment by luring souls to the occult they belong kingdom using this movies.

These are movies when our young people watch them, they get initiated in the spirit and start misbehaving and takes unnecessary decisions that will destroy their future and density by joining secret cult in other to become movies star like those actors they watch on television without knowing the secret behind it.

What is your Experience as an Appointed Deliverance Minister of God

As an Appointed Deliverance Minister of God, I have come across thousand of several cases in my ministration as a servant of God.

Currently I encountered a young Man name Ebuka, who was desperate to become a movie star and also wants to make wealth at all cost.

He ventured into the Nollywood Industry after watching series of movies, he decided within himself to become an actor in the industry according to him.

He was initiated into in an occult called Queen of Heaven were thousands of Nollywood actors ventured into, all in the name of becoming a top actor, producers, musician, and comedian in other to make fame.

During the initiation Ebuka had sex with one of the female mermaid known as the queen of heaven and was force to sacrifice his mother and other family members as part of the rules in the kingdom all the name of success.

He revealed that most movie actors, actress that are gays and lesbians is what is giving to them in their respective kingdom as a means of winning souls for satanic kingdom and get wealth in return.

The young Man deliverance took series of stages due to the level of blood and sacrifice he has offered to the kingdom.

During is deliverance we experience several demonic encounters resulting to series of sub demonic kingdoms comforting us and resisting is freedom, but through the intervention of Gods power he was delivered.

What are the Ways you Think Children can be Initiated when they Watch these Movies?

Azuka: children can easily get initiated through the lost of the eyes, because the eye is the widow of the heart whatever it sees, the heart consumes.

Some while sleeping, they find themselves in the strange forest, land or may be someone chasing them in the dream. Some through dreams find themselves having sex with satanic demons, while others after watching these movies see themselves eating and swimming in the large oceans of waters. Others find themselves in the market square or in an unknown gathering with strange women they have not come cross before.

All this result to the kind of movies they watched, consumed with the evil spirit behind such movies waiting to attack, this is the reason why people are suffering from unknown satanic problems.

Series of Nollywood movies that has nude back ground where a man and a woman are having sex in it. Occultisms movies were young men due to the solution in life decided to join secret cult for wealth, evil forest movies and others. Those movies are demonic, and lot of sacrifices has been made in those kingdoms before such movies are released.

Your Ministry his boldly kicking against production and commercialization of Nollywood Movies with negative impact on youth in Nigeria, can you briefly explain more on this?

Yes we are boldly kicking against the production of Nollywood movies with satanic motives in Nigeria. Movies with satanic interest from the pit of hell, produced in other to recruit souls for satanic kingdom.

Satan is using this medium to win souls for is kingdom, Pastors, Bishops must come together to fight against this evil things, else it will eat up our generation.

It is now clear every young women and men wants to become an actor where they sell their souls to Satan and gain wealth.

Look at the Big Brother Nigeria today, it is the easy way to sell souls to Satan, where future young boys and girls have sex with each other live with the world watching them and in return they claim to get wealth after sell their glories to Satan who from that moment controls their density.

Nigeria Government, must support the Holy Church of God preaching Jesus Christ to put an end to this "Errors" that has eaten up the future leaders of this great nation, because God is not happy with this immoral act the movie industries are adopting in our nation adding Government must implement a law to end this demonic Nollywood movies .

You said something about the spirit of fashion design causing madness on Nigeria youth today.

Yes during the deliverance of the young man named Ebuka .

While I was rounding up the deliverance through the leading of the Holy Spirit of God. He brought out some Black T Shirt and gave them to me, requesting that I set them on fire.

I was shock; he told me that this black Versace T. Shirt with the head of a beast draw on it was given to him in the kingdom during the initiation.

He said every member in the occult managed by queen of heaven must put on the shirt daily adding those beasts on the T shirt represent powers, protection and also to assist them get whatever they want on this earth easily.

The T. Shirt took us hours for it to be totally burned, we requested the guidance of the Holy Spirit before will were able to set them on fire.

We also discovered what he called T-shirt has several demonic beasts coming out from it with different colors when burned.

According to Him, he said whenever they need human blood for sacrifice the beast comes out and make things easy for them adding that women is always the victim in this case.

Azuka, warm young Men and Women to control their passion for fashion and also to be careful of whatever cloth they buy with their money, because not all cloth is produced for fashion adding some of this cloth are from satanic kingdom used to initiate people into occult kingdom and also used for rituals.

What is your Advice to Parent of Today?

My Advice to Parent, Father and Mothers is to monitor the movies they allow their children to watch at home, because you discover when they consume all this evil movies were naked women having sex with dogs, or women having sex with her follow women and men having affairs with is follow men, then the urge for such act comes in.

Because the evil demonic spirit behind such movies will capture their heart, then negative attitudes come in, that is when you see children boldly telling their parent that he or she wants to be a gay, lesbian, music dancer, club dancers, an actor or actress were they manipulate them with satanic thought on how to go naked and surface in magazines sell their souls to Satan in order to become the richest women or men on planet.

As a fathers monitor the movies you watch at home for the benefit of your kids, while mother must caution the passion for fashion were our young girls go wrong.

Fashion is good, but a line must be drawn between fashion and madness, most of the cloth in the market today is evil and manufactured for specific reasons.

Parent must corporate with Ministers of God to save our youth the future leaders of our nation adding that it is what you give to your children that is what we you get in return.