Crime News
Notorious Bank Robbery Gang Arrested…500 Live Ammunition, 3 AK Rifles, K2 Rifle & Pump Action Gun Recovered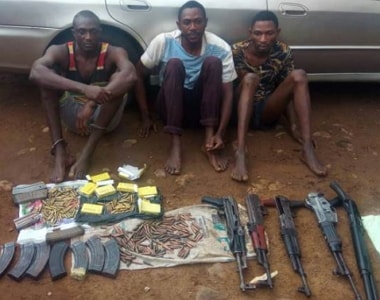 Notorious Bank Robbery Gang Arrested…500 Live Ammunition, 3 AK Rifles, K2 Rifle & Pump Action Gun Recovered
IGP Intelligence Response Team operatives have arrested six suspected bank robbers said to have operated in Kwara, Kogi, Niger, Kaduna States and the Federal Capital Territory (FCT).
The suspects, James Obaje, 34, Nelson Yakubu, 36, Yakubu Danladi, 27, Ibrahim Mutari, 25, Suleiman Ilo, 35, and Gboyega Olaoye, 35, were arrested in Kwara, Kogi and Kaduna States.
According to the police, they were also involved in series of car snatching and attacks on petrol stations in the respective states, adding that their arrest follow complaints from residents about frequent armed robberies.
It was gathered that three AK47 rifles, a K2 rifle, a pump action gun and over 500 rounds of live ammunition.
Also recovered was a blue Mazda 626 marked KEY627DS, said to be their operational vehicle, charms and various number plates.
Police spokesman, Jimoh Moshood, an acting Deputy Commissioner of Police (Ag DCP) said efforts have been intensified to arrest other members of the gang.