Hot Gists
Ojukwu's Disowned First Son, Sylvester: My Father's Will Is Fake, I'm Richer Than Him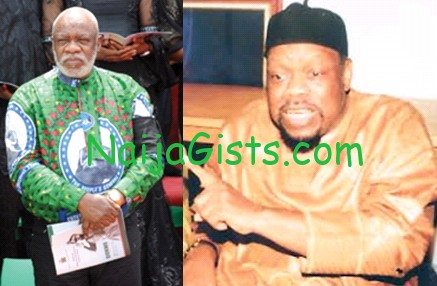 Dec 2nd, 2012 – Ojukwu's Disowned First Son, Sylvester: My Father's Will Is Fake, I'm Richer Than Him
Controversy has continued to trail the Will of the late Igbo leader, Dim Chukwuemeka Odumegwu Ojukwu barely 48 hours after it was read.
The Will which stated that his first son, Sylvester Ojukwu, has no place in his multi-million property has raised more dusts than expected.
However, countering the content of the Will, Sylvester, who claimed he is richer than his father, doubted the authenticity of the Will, saying that it was concocted.
Sylvester said, "even if it is true, I am worth over N3 billion, which is more than the assets mentioned in my father's Will".
Referring to the Will as fake, the first son of the War lord said it looks very suspicious, "I am surprised, and I doubt that the Will was drafted by my father. It was a concoction.
The Will seemed to have been drafted in hurry by people desperate to achieve an aim. But, if it is the true Will of my father, I have no problem with that. After all, this is not the first time a first son is disinherited from his father's Will. If truly my father disinherited me from his Will, that does not stop me from being Ojukwu's first son," he stated.
It would be recalled that Sylvester once dragged his family members to court for not allowing him to perform the 'dust to dust' rites during the interment of the late Biafran leader.
But fighting back at the present situation, Sylvester, a legal practitioner said that through a DNA test one could lose his paternity if it is proved that he is not the rightful child of his father.
However, in the controversial Will, the late Eze Ndigbo willed his estate and monies to former beauty queen, Bianca, and appointed her, the late Igwe of Oraukwu, Emeka Ojukwu and James Chukwuneme as trustees and executors of the documents.
Ikemba also clearly stated in his Will that only eight people should be regarded as his bonafide children.
The list of the chosen children includes;
Teni Hamman
Emeka Ojukwu
Mmegha
Okigbo
Ebele
Chineme
Afam
Nwachukwu.
Although only one of Ojukwu's children was present when the Will was read at the Enugu High Court on Friday, other share holders were urged by the court to apply for copies of the Will as well as the codicil, which was prepared by one Barrister Emeka Onyemelukwe on December 16, 2009. (source)