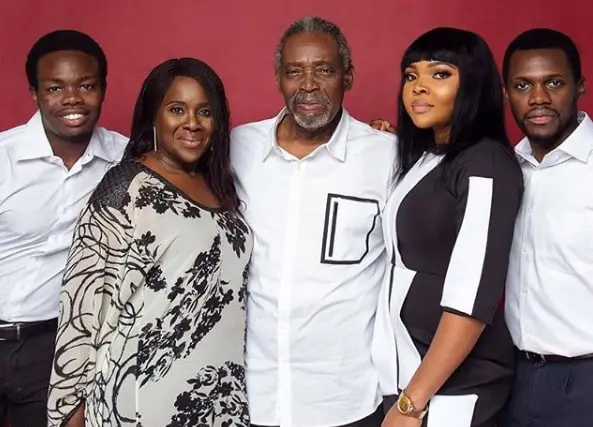 Olu Jacobs Family: Wife, Children, Late Daughter, Wedding Photo, Movies & Other Fun Life Facts
The Nigerian movie industry is currently enjoying global prominence, recognition and accolades like never before. However, Nollywood did not just get to where it is today; some people, the grand pioneers, actually set up the framework decades ago. These people set Nollywood on a slow and steady upward trajectory from way back in the 1970s. Today, Nollywood is one of the most prominent and most viewed movie industry in the world. One of the grand pioneers of this industry is Olu Jacobs.
Olu Jacobs is probably one of the few actors of his time, who are still active today. He is highly respected in Nollywood. In fact, most of his younger colleagues call him Uncle Olu Jacobs. In a couple of years, he would be celebrating his 50th anniversary as a movie artiste. That's half a century of hard work and dedication – incredible!!.
The veteran actor is blessed across board. While he has enjoyed a long and illustrious career in the world of make-believe he has had an equally (or even more) illustrious personal life. We bring you a comprehensive insight into the personal life and career of this exceptional veteran actor.
Olu Jacobs Wife
One of the most adorable pairs in Nollywood is Olu Jacobs and his wife, Joke Silva. Joke Silva, just like her husband, is also a famous and highly respected Nollywood star. Their marriage is arguably the most celebrated in the Nigerian entertainment space. They've been happily married for about thirty years and their union is blessed with three children, one late.
Olu Jacobs, reportedly, met Joke Silva for the first time in 1981, at the National Theatre in Lagos, which was the venue hosting the casting of Wole Soyinka's work, Jero's Metamorphosis. They got married 8 years later in 1989 and their love has been waxing stronger ever since. Although, Joke Silva has chosen to adopt her maiden surname, Olu Jacobs admits he has no problem with it.
Olu Jacobs and wife, Joke Silva, co-own a movie training setup, which they named Lufodu Academy of Performing Arts. The Academy is designed to serve as a training school for upcoming or aspiring movie stars.
Joke Silva also has a number of endorsements, with top coys in the country. One of them is AIICO Pensions and Insurance.
Olu Jacobs Children
Olu Jacobs and Joke Silva's second child is named Olusoji Jacobs, while the third and last son is named Olugbenga. Although, not much information is available on the two sons of the power couple, it was widely reported that, both Olusoji and Olugbenga studied in the United Kingdom.
Reports have it that, Olusoji Jacobs, the eldest son, manages majority of the veteran couple's investments, including their finances. One of such is Lufodo productions, which is one of the firms under Lufodo group, owned by the famous couple.
Olu Jacobs Late Daughter
While the celebrated couple is blessed with two sons, they lost their first child, a girl when she was ten and half years. Read more about her death here.
The couple earlier this year, welcomed a female companion, daughter-in-law, into their family when Olusoji Jacobs, got married to his heartrob, Boma Douglas.
Boma Douglas is a native of Buguma, River state. In a recent interview, she claimed that, "she sees herself as a daughter (and not just a daughter-in-law) to Olu Jacobs and Joke Silva"
 Olu Jacobs Death Rumour
The veteran actor is still hale and hearty. At 76, this legend is one of the oldest actors in Nollywood. However, despite his age, Olu Jacobs is still as fit as a fiddle and still very much active to play his roles, excellently, in movies.
Olu Jacobs Biography
The veteran actor, whose full name is Oludotun Baiyewu Jacobs, was born on July 11, 1942. This put his age at 76 years. He celebrated his last birthday (76th birthday) on July 11, 2018. He hails from Egba Alake (Egbaland) in Ogun state.
Olu Jacobs moved to the northern city of Kano at a tender age. He grew up and schooled in the city. He attended Holy Trinity Secondary School, one of the few Christian schools in the northern part of Nigerian during this time. While in this school, he was an active member of "Drama and Debate group". This helped cultivate and develop his interest in acting.
According to the veteran actor, the event that triggered his acting ambition was the inspiration he got from Hubert Ogunde's concert in Kano, which he attended. He took the bold step, despite his parents reluctance, and secured a UK Student visa. He travelled shortly after and subsequently enrolled at the Royal Academy of Dramatic Arts in London, UK, where he was trained in acting.
While at the London academy, he got several opportunities and eventually went on to star in many British TV Series/Shows in the 1970s. The highlight of his TV Shows features came in 1978 in a play titled, Night and Day, where he adopted the role of President Mageeba.
A couple of years down the line, Olu Jacobs made his appearance in the International/Hollywood movie scene. He was featured in a popular war movie, The Dogs of War, produced by the legendary John Irvin. He also starred in other popular international movies like Baby: Secrets of the Lost Legends, Pirates and many more.
While in the peak of his career, Olu Jacobs got married to his love, Joke Silva, in 1989 and their marriage has been one of a kind ever since.
Olu Jacobs Movies
In 2007, the veteran actor won African Movie Academy Award (AMAA) for Best Actor in a Leading Role. He also won an award at the 2013 edition of African Magic Viewers Choice Awards (AMVCA). He was honoured with the Industry Merit Award at AMVCA 2013.
Over the past four decades, Olu Jacobs has starred in about 150 movies in Nollywood. Some of his top movie features, in the contemporary Nollywood movie scene include:
Throne of Tears (2018)
The Royal Hibiscus Hotel (2017)
Unveil (2017)
The Crocodile Worshippers (2017)
One With God (2016)
Royal Step Up (2016)
The Sons (2016)
Ghana Must Go (2016)
Oloibiri (2015)
Grey Dawn (2015)
The Family (2014)
The Antique (2014)
Dry (2014)
Potomanto (2013)
Save My Soul (2013)
A Sting in a Tale (2009)
Soul of Fire (2012)
Adesuwa (2012)
Heroes and Zeroes (2012)
Soul on Fire (2012)
White Chapel (2011)
Bitter Generation (2010)
Bent Arrow (2010)
Tears of A Princess (2009)
Royal Storm (2009)
Olu Jacobs Net Worth
With an acting experience of about half a century, which cut across both local and international movie scenes, Olu Jacobs has earned a significant sum in prize money over this period. Today, the veteran actor has an estimated net worth of 1.5 billion naira.
Olu Jacobs Wedding Photo
Check out a rare wedding photo of the veteran actor who got married decades ago.
Olusoji Jacobs N10Million Wedding
The couple's eldest son Olusoji Jacobs got married, at a grand wedding, to Boma Douglas. The traditional wedding was held in the bride's hometown in River States, while the white wedding held in Lagos.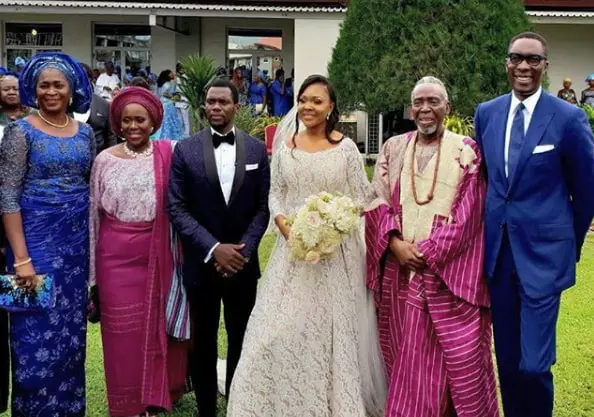 According to Boma Douglas, Olusoji Jacobs' new wife, their wedding cost a staggering 10 million Naira. The wedding had in attendance top dignitaries and celebrities from the Nigerian entertainment arena, including the likes of Omotola Jalade Ekeinde, Adesua Etomi-Wellington and Bankole Wellington (Banky W) among others.