Omoni Oboli Biography: Net Worth, Awards, Age, Nominations, Life Story, Husband, Family & Many More
Omoni Oboli is one of the most recognizable faces in the Nigerian movie arena today. She is an actress, producer and script writer. She has produced and starred in numerous movies in Nollywood. This lady, today, is one of the most sought after actresses in fast-growing movie industry.
[adinserter block="1″]
Omoni is, no doubt, one of the few popular ladies in showbiz, who has been able to get married and stay married. We bring you the biography, family life and life history of this exceptional actress.
Omoni Oboli Husband
Omoni, as earlier emphasized, belongs to the married class. She's one of the few Nollywood artistes who have been able to sustain their marriage. Omoni Oboli is married to a medical practitioner, Dr Nnamdi Oboli. As you can see, she has gone against the norms, with her decision to wholly adopt her husband's surname, Oboli.
Nnamdi Oboli is a medical Doctor, who specializes in Optometry (the treatment of human eyes). He got married to Omoni 18 years ago in 2000 and their marriage is blessed with 3 boys.
[adinserter block="20″]
Nnamdi is one who is very proud of his wife. He has, on many occasions, shown his affection publicly to his wife. According to Nnamdi, "Omoni is his strength. Their union is, indeed, one of a kind.
While he is a trained Optometrist, Nnamdi Oboli is equally good in the art of literature; he is a very good writer. He authored a book about two years ago, which documents his marital life. The book was titled, For Better For Us; a title coined out of the marital slogan; for better for worse.
The actress and her optometrist husband jointly own a firm, which they named Dionic Visions. A company which represents Omoni's film productions and her husband's optometry.
Omoni Oboli Biography
The multi-talented actress and producer was born on April 22, 1978. She was born in the capital of Edo state, Benin city. While Omoni was born in Benin city, Edo state, she hails from the Niger-Delta. She's acclaimed to be from a small settlement known as Mosogar in Delta state.
[adinserter block="21″]
Omoni reportedly grew up in the city of Warri, Delta state. She lived and schooled for a while in Warri before moving back to Benin city. Shortly after Omoni's secondary education in 1996, she opted to pursue a career in Nollywood and luckily for her, she made her first appearance few months later. She featured in a movie titled Bitter Encounter, where she adopted the character of an office secretary.
Her performance in Bitter Encounter got her 4 other movie roles in the same year. She starred, as the lead actress in 3 movies, and the prospect of an exemplary career beckons on her. However, Omoni had other plans for her life at that point in time; she was not ready for a full blown acting career just yet.
After Omoni Oboli's last movie appearance in 1996 (Another Campus Tale), she enrolled at the University of Benin, to acquire her tertiary education. She was accepted into the University of Benin to study Foreign Languages, where she majored in French. She completed her programme four years later in 2000.
Shortly after Omoni's graduation in 2000, she got married to her sweetheart, Nnamdi Oboli. Her ambition to become a successful actress and film producer/director would not be truncated by her marriage. She later travelled out of the country to acquire a training in digital film making. She enrolled at the prestigious New York Film Academy, where she acquired her professional training and was consequently certified as a professional digital filmmaker.
Omoni Oboli made her long awaited return back to the Nollywood scene in 2009 and as an experienced  artiste, immediately hit the ground running. She played the lead female character in the top movie titled Figurines, where she starred alongside the likes of Ramsey Nouah and Kunle Afolayan.
It took Omoni only 2 years after her return to the Nollywood, to win her first award. In 2010, she won two international awards (making her the first Nigerian movie actress to achieve such feat).
From 2009 to date, she has produced and co-produced many movies. Her top productions include Wives on Strike, The Rivals and many more.
The actress/producer is also a known philanthropist. She currently runs a NGO, her charity foundation, which she named "Omoni Oboli Foundation". The NGO aims at poverty alleviation and women empowerment in Nigeria.
The mother of three has had an exemplary career, so far, in the Nigerian movie scene. Some one who took such a long break from acting and still came back stronger certainly deserves some 'accolades'.
Omoni Oboli Family
Omoni, as earlier stated, is happily married with kids. She married her hubby, Nnamdi, some 18 years ago in 2000. There marriage, so far, has produced three beautiful kids; Tobe, Chizi and Gozi (all boys).
She gave birth to her first son, Tobe, barely 2 years into their marriage. He is a full grown up now, at 16 years. The second born, Chizi, is 14 years old, while the last born, Gozi, is 12 years old.
Much of Omoni's long absence from the big screen was attributed to her devotion to her family. She spent a cumulative period of nine years raising her little kids before eventually returning back to the Nollywood.
Omoni Oboli Net Worth
As a multi-talented movie artiste, with tons of features under her belt, she has earned a sizeable sum in prize money within this period. Furthermore, Omoni Oboli is no ordinary actress, she is also a producer, script writer and a professional digital film maker. She has scripted and co-scripted many top Nollywood movies from 2009 to date.
Hence, with respect to her earnings as an actress, a producer, director and script writer, Omoni Oboli is estimated to worth 200 million Naira.
Omoni Oboli Movies
This lady is not new to the game. In fact, she made her first screen appearance at a tender age of 3. However, her first professional movie appearance did not come until about 15 years later in 1996, when she turned 18.
[adinserter block="22″]
Omoni got her first movie role shortly after graduating from secondary school. She was featured in the 1996 movie titled Bitter Encounter. She had made other appearances in 1996 before taking the long break to go for her studies.
The star actress returned to the Nollywood about 13 years later in 2009 and within the space of two years, she has played lead roles in several top movies like Anchor Baby, Being Mrs. Elliott and Fifty.
Since her return in 2009, she has also produced and directed several other top movies.
Overall, Omoni Oboli has starred in over a 100 Nollywood movies.
Below is a compilation of some of her top movies from 2009 to date.
Moms At War (2018)
Too Scared For Commitment (2018)
Wedding Party 2 (2017)
Okafor's Law (2017)
First Lady (2015)
Wives on Strike (2015)
Fifty (2015)
The First Lady (2015)
Being Mrs Elliott (2014)
Brother's Keeper (2014)
Render to Ceaser's (2014)
Anchor Baby (2010)
Figurine (2009)
Entanglement (2009)
Bitter Encounter (1996)
Shame (1996)
Not My Will (1996)
Another Campus Tale (1996)
Omoni Oboli Wedding 
Omoni and Nnamdi got married in 2000. There marriage is one to wish for. The couple are blessed with 3 kids.
 Omoni Oboli Nominations
She took the Nollywood by storm upon her return. It took her less than 2 years to win her first award. She became the first actress to win 2 international awards in the same year. She won an award at Los Angeles Movies Award and another at the Harlem International  Film festival.
Below is an outline of Oboli's nominations and awards.
2017 City People Movie Award for Best Movie Producer of the Year – Nominated
City People Movie Award for the Face of the Nollywood (English) – Nominated
2016 Nigerian Entertainment Award for Best Actress – Nominated
2014 City People Movie Award for Best Actress of the Year (English) – Nominated
2015 Sun Nollywood Personality of the Year – Winner
2014 Big Screen Actress of the Year (Eloy Awards) – Winner
2011 Actress in a Leading Role (AMAA) – Nominated
2010 Best Actress Narrative Feature (Los Angeles Movies Award) – Winner
2010 Best Actress of the Year (Harlem International Film Festival) – Winner
Omoni Oboli Age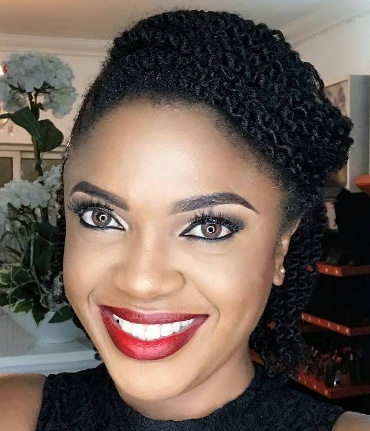 The stunning actress was born in the late 1970s,  April 22, 1978 precisely. Hence, as at the time of writing this report, Monday October 2nd, 2018, Omoni Oboli's age sums up to 40 years, 5 months and 8 days. For convenience, it is better we stick to the years. Hence, Omoni Oboli is currently 40 years old.
We wish her many more years at the top of her game in the Nollywood.
[adinserter block="1″]