Entertainment News
Oprah Winfrey Biological Mother Dead: Vernita Lee Private Burial Holds In Milwaukee Wisconsin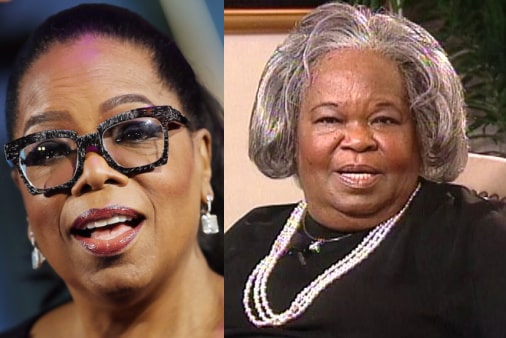 Oprah Winfrey Biological Mother Dies: Vernita Lee Buried In Milwaukee Wisconsin
Although their relationship was rocky, Oprah Winfrey is finally at peace after reconciling with her mother years before her death.
The biological mother of the media mogul, Vernita Lee has passed on.
What Killed Oprah Winfrey Mother, Vernita Lee
She gave up the ghost on Thursday the 22nd of November 2018 at her home in Milwaukee Wisconsin at the age of 83.
The exact cause of her death was not stated in a Press Statement released by her family.
Oprah Winfrey who was born in 1954 in Mississippi was raised by her maternal granny after her mother moved to Milwaukee to work as a maid.
When Oprah clocked 6, she was reunited with her mother.
In 1994, Oprah Winfrey was sent to live with her father in Tennessee.
Vernita had 3 other children after Oprah. Their names are; Patricia Lee, Jeffrey Lee and Patricia Amanda.
She lost 2 of her kids Jeffrey Lee and Patricia Lee in 1989 and 2003 respectively.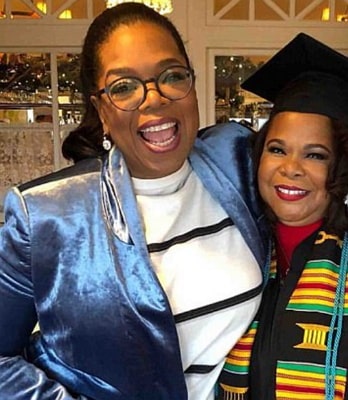 Patricia Amanda (now Patricia Lofton), the only surviving half-sister of Oprah Winfrey has 4 children.
She was laid to rest in a private funeral that held in Milwaukee over the weekend.
Oprah who took a break from the social media since her mother passed away returned to Instagram few minutes ago to thank her supporters for their condolence messages.
Here is her update.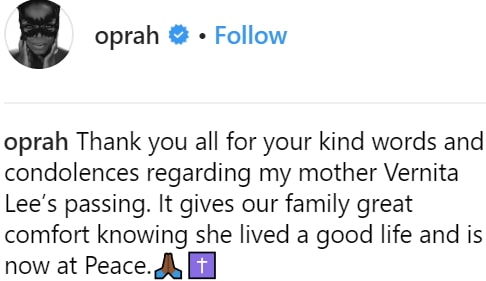 Here is the deceased posing with her family members on her 80th birthday.
May her soul rest in peace.