Entertainment News
Failed Cameroonian Singer Dencia Insults Nigerian Footballer Leon Balogun Parents, Calls Him A Poor Slave
Failed Cameroonian Singer Dencia Insults Parents Of Nigerian Footballer Leon Balogun, Dismisses Him As Poor Slave For Warning Black People To Avoid Her Skin Whitening Products.
Cameroonian singer Reprudencia Sonkey popularly called Dencia who ventured into skin bleaching business in order to support her lavish lifestyle hit the goldmine after releasing a skin whitening chemical few years ago.
Sensing that Nigerians hate her poisonous skin destroyer, smart Dencia hired American stripper Blac Chyna to bring her cream to Nigeria and Gbam!! her plan worked as most gullible Nigerians rushed the cream and bought it all in one day.
Since she introduced the product in Nigeria, many notable figures have been calling her out for feeding on the weaknesses of some Nigerians.
To cut the long story short, one of her critics, Germany-Nigerian footballer Leon Balogun warned all the black folks to shun Dencia skin destroying cream and embrace their natural complexion.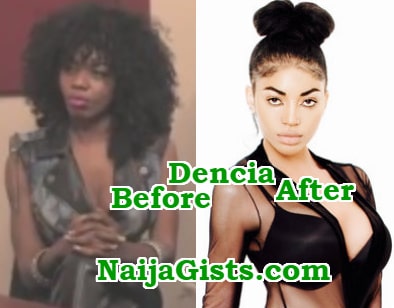 In her response, Dencia who had earlier announced that an average Nigerian can't afford her cream insulted Leon's parents.
She further dismissed him as a lowly-paid "slave" and claimed that Leon's "white privilege" didn't get him into the big leagues.
See her unkind response to Leon's message below.
Dencia who many describe as a bitter woman is known for passing out insulting messages on the social media.
She obviously has anger problem because a well-cultured African woman will never insult the parents of another African.
It is highly shameful that our society embraces characters like Dencia whose lifestyle is not worthy of emulation.
For those killing themselves to get her skin destroying-chemical or any other skin altering products for that matter, be careful, such can expose you to skin cancer.
Be contented with your natural skin and stop using your money to buy your own coffin.
A word they say is enough for the wise.