Hot Gists
PHCN Threatens Blackout In Sokoto Over Governor Aliyu' Assault On Staff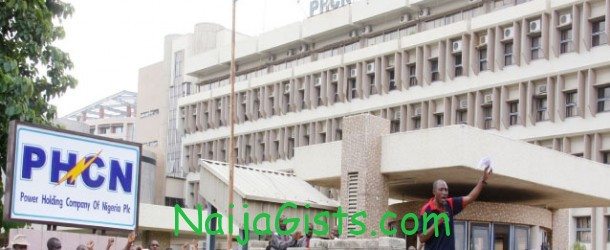 Oct 26,
2012 – PHCN Threatens Blackout In Sokoto Over Governor Aliyu' Assault On Staff
The Sokoto State chapter of National Union of Electricity Employee (NUEE) has threatened to withdraw its members from all PHCN's formations, which might cause a total blackout across the state till further notice. This followed the alleged beating up of one of the Power Holding Company of Nigeria (PHCN) Business Managers in Sokoto State. naijagists.com
The PHCN authority in the state had also continued a mass disconnection of power supply to all state government institutions, including state hospitals and other establishments across the state over payment default, apparently a retaliatory move against the state government. In a statement signed by the union chairman and secretary, Abubakar Sani and Yusuf Abdulkarim respectively, the union stated that the decision to withdraw its staff followed the recent alleged harassment of PHCN officials by the state governor and his security aides.
The union further alleged that Governor Aliyu Wamakko's security aides beat up the PHCN official while on official meeting at the instance of the governor. The PHCN was in the governor's house to explain why his hometown's electricity could not be restored. According to the statement, "Report reaching us from Sokoto Business Unit revealed that on October 20, 2012, the state Governor, Alhaji Aliyu Wamakko invited the two Business Managers of Marina and Gwiwa with other two PHCN staff to his house in respect of the Wamakko township 2.5MVA transformer."
"Thereafter, the governor personally assaulted the Business Manager and two other staff who were mercilessly beaten and finally handed over to his personal security for further assault and torture." All PHCN staff in the state are under intimidation and are no longer secure in carrying out their legitimate duties.
"In view of the above, the state executive council of NUEE resolved to withdraw our staff from PHCN formations and to cause a total blackout across the state till further notice," it stated. Meanwhile, the leadership of National Association of Nigerian Students (NANS) has urged the authority of Power Holding Company of Nigeria (PHCN) in the state as matter of urgency, reverse its decision of disconnecting power supply to any state government institution or face what it called 'mass action' from the students. Addressing journalists in Sokoto yesterday, the union Secretary General Zone 'A', Comrade Kasimu Aliyu Nakura also called on President Goodluck Jonathan and the National Assembly to as matter of urgency intervene in the matter.
"The Nigerian students and concerned youths of Sokoto State have strongly condemned the action of the PHCN to cause blackout in the state for no just reason. And we are hereby calling for the immediate restoration of electricity supply in the affected areas within 24 hours of this ultimatum, pending when the issues would be resolved with the state government as masses are on the receiving end of this action," it stated.(Sunnews)