Crime News
Police Arrest Baby Sellers In Imo State, Nigeria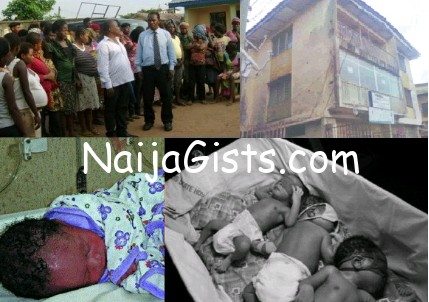 Sept 1st, 2012 – Police Arrest Baby Sellers In Imo State, Nigeria

Police command has caught a child trafficking gang which runs a baby selling factory in Aba, Abia State, Nigeria. naijagists.com
The gang members snatched 2 babies from an Imo State hospital after they  reportedly stormed the hospital armed with guns and forcefully took away the babies, a boy and a girl.
Parading the suspects, at the police headquarters in Owerri yesterday, the Police Public Relations Officer (PPRO), Mr. Vitalis Onugu, stated that the suspects, after stealing the two children, sold them to a woman who operates a social home.
Onugu alleged that the woman later resold the children to two other people at the cost of N450,000 and N400,000, saying that the male child was later recovered from a woman in Lagos State.
The suspect, who bought the babies from those who snatched them from the hospital, claimed that she did not know that the children were stolen.
She told Saturday Sun: "When they brought the children to me, they told me that they were orphans and that their parents were dead. So, I bought the babies from them for N450,000."
According to her, she has been in the business of trading in babies for the past eight years, accepting that she sold the male child for N450,000 and the female child for N400,000.
She added: "Since I started, I have sold 25 babies.
"I had 30 babies initially, but only five babies are left, but I make sure that I sold them to responsible people who will take good care of them."
Meanwhile, the state police command also arrested seven suspected cultists at the Federal Polytechnic, Nekede, who were going to hold their meeting.
The suspected cultists were arrested in a convoy of four cars.
According to sources, the arrest was sequel to information from the school's management, which caused the police to swing into action.
The cult group kingpin and others were arrested.
The police discovered black berets and other items, signifying that they belonged to the Black Axe confraternity.
The state Commissioner of Police, Adisa Bolanta, while addressing journalists, said that the era of criminality was gone in Imo State, assuring the people that the police would partner them to rid the state of criminals.
Bolanta said: "Let me assure you that we will make Imo State free from kidnappers and other criminal elements and let me warn all criminals to mend their ways or relocate from the state because they will no longer have a hiding place."(sunnews)