Hot Gists
Exposed! The Lagos-Based Ekiti-Born Billionaire Behind Ex Queen Naomi Silekunola's Lavish Lifestyle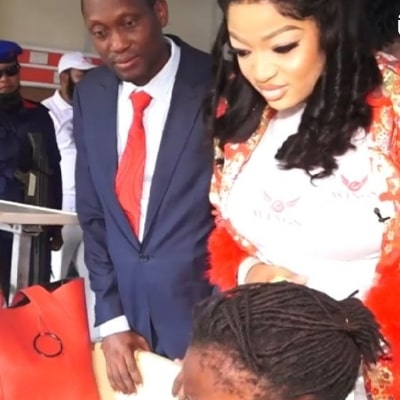 Exposed! The Lagos-Based Ekiti-Born Billionaire Behind Ex Queen Naomi Silekunola's Lavish Lifestyle
By City Scoop
Today marks about 10 months that Queen Silekunola Naomi announced her exit from the palace of the Ooni of Ife, HRM Oba Adeyeye Ogunwusi. Of course, the end to her three-year marriage to the monarch was not devoid of controversy. Since her exit from the palace, Queen Naomi has adopted a brand new new lifestyle. Her new life has kept not a few tongues wagging – apparently.
A lot has happened since back in December of 2021. Kabiyesi had gone ahead to marry six new Oloris in a ground-breaking fashion, while Queen Naomi (who was a prophetess while getting married to Ooni) has gone ahead to repackage her life to suit her reality. She has drawn attention to herself via the social media where she drops enchanting videos and pictures of her new glowing skin, fine body and glam lifestyle regularly. She has stepped up her fashion and beauty routine as well. So who is bankrolling her? That has been the question on many lips.
A lot of people have also been wondering whether she already has a new love. Although some also question if it is not too early for her to have a new relationship. Well, those who are really in the know – per CityScoop sources said Queen Naomi is at the moment being spoiled silly by a Lagos-based society top shot. He is a businessman from Ekiti. Although a very private individual – who prefers to run his activities on a low key. This successful, married businessman that man has many happening babe on the lagos social circle queing on the list to have a fling with him because of his fat pocket, we gathered. He has been linked with different big babes in the past. Some ladies even make their bucks by connecting him to his choice girls. He is not a new name in most high ranking lagos hotels around. The dollar is his official currency, we heard.
Few months back, he dragged the high and mighty to Ekiti for the celebration of his dad's birthday, where King Sunny Ade was on the band stand. He is the one sorting the bills of the new glam life of the former Ile Ife queen, according to sources. He was said to be the one who sponsored the lavish birthday celebration of Queen Naomi"s mother that took place at Radisson blu last year and and her 55th that held recently.
We scooped that no one in the family of Queen Naomi jokes with him. He is that involved with them. The man in question is also very close a petite popular Lagos society lady. They have a very cordial relationship. This lady in question is also very close to the Chairman of Lagos Parks and Garages, Musiliu Akinsanya (Mc Oluomo).
The extent of Queen Naomi's involvement with this man behind her current good life however remains unknown. Our sources could not tell whether they are taking it to the next level or not.