Columns
Shahadah: Did Funke Akindele Renounce Christ Unknowingly ?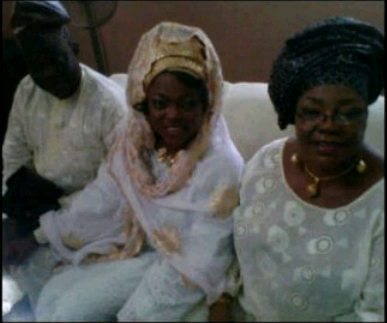 Funke's Dad left, Funke Akindele's mother( MFM Pastor) right
May 27, 2012 – Shahadah: Did Funke Akindele Renounce Christ Unknowingly ?

Hello my fellow Nigerians before you criticize me in any way please take some time out to understand the content of my article first.
My best Nollywood actress, Funke Akindele did a Nikkai Muslim rite yesterday to officially become a Muslim right?
Nikkai is an Islamic wedding right to bless the marriage, it also involves signing the marriage contract – to practising muslims, avoiding this right makes the bride a mere concubine which also involves Shahadah taking.
A Little About Shahadah
After having decided to revert to Islam, one must sincerely utter a testimony called Shahadah.
The Shahadah consists of two parts.
PART 1: One is to testify that there is no deity (god) worthy of worship except Allah. The second part is to testify that Muhammad (pbuh) is the final messenger of Allah.
The Shahadah is not necessarily to be said in Arabic, though preferable. One may say the Shahadah in front of two witnesses, but one should not delay the testimony. It is preferred that after taking shahadah, one takes a bath.
The shahadah reads as follows:
"ASH-HADU ALLA ILAHA ILLALLAH WA ASH-HADU ANNA MUHAMMADAN RASUL-ALLAH".
The Translation: "I bear witness that there is no deity (none truly to be worshipped) but Allah, and I bear witness that Muhammad is the messenger of Allah"
After taking the shahadah, one must start the way towards God by following the five pillars of Islam.
Contrary to some confused folks out there claiming she is still a Christian, her official conversion to Islam that took place yesterday coupled with name change earlier in this week is an indication that she has renounced Christ.
Funke Akindele renounced Christ when she took the Shahadah taking on the muslim name of Khadijah in the process. (Article by Bolaji Obe).
Editor's comment: The opinion expressed in this article doesn't necessarily reflect that of NaijaGists.com.