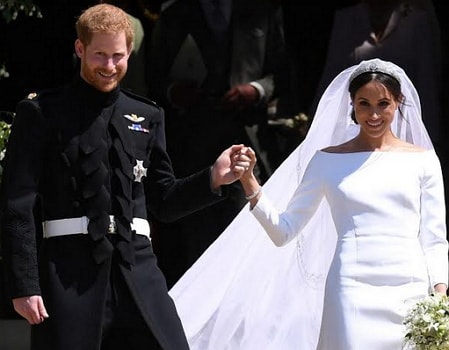 By Gbenga Adebambo
Sometimes the purpose of a 'Man' in a woman's life is to make her a better woman for another 'Man'!
Ever heard of Trevor Engelson? May be, may be not. Trevor Engelson was Meghan Markle's former husband. The historic wedding between Prince Harry and Meghan Markle  at Windsor Castle wasn't her first. Years before meeting her real prince, the former actress was married to film producer Trevor Engelson. Trevor and Meghan tied the knot on September 10, 2011 at the Jamaica Inn in Ocho Rios, Jamaica. The ceremony took place in front of 102 guests. Fast forward to like seven years after, and the same wedding, but with a man of royalty attracted the crème de la crème of the society and viewed by billions of viewers all over the world.
As fate and coincidence would have it after their divorce, it turns out that Engelson was actually working on a sitcom with Fox about a man whose wife divorced him for a British prince. The premise would include sharing custody of their kids with the royal family. On hearing that his fictional story was going to become a very disturbing reality with his former wife tying the nuptial knot with Prince Harry on May 19, 2018. He was forced to abandon the project in order to evade the overwhelming media bashings that may tear apart his own private life.
Martin Luther King, Jr. once said, "Let no man pull you low enough to hate him". Many time we suffer very degrading treatment from people but unknown to many, there is something more degrading than the way you've been treated and that is to spend the rest of your life hating and loathing those people. If you really have to revenge for what others have done to you, then let your revenge be your massive success! Don't ever stoop so low to plan to hurt the people that hurt you; use the hurt for something more fulfilling and productive. Successful people believe strongly that there is a gain in every pain, such is the attitude of the woman that has now become the subject of discussion in the media for the past few days-Meghan Markle!
Your success is always the best revenge you can take against your enemies! Be so successful, that you make the people that left you feel like coming back. Make your enemy green with envy! Don't ever focus on your hurt, use the pain to propel yourself to greatness.
It is amazing how we find love in the most unlikeliest of places! In what is acclaimed to be the wedding of the year and undoubtedly the wedding of the decade. The wedding of Prince Harry with Meghan Markle will continue to arouse the mystery and unpredictability of love. Beyond the glitz, thrills, frills and paparazzi of the royal wedding are life lessons that are critical to destiny fulfillment:
WHEN YOU TAKE THINGS FOR GRANTED, THE THINGS YOU ARE GRANTED GET TAKEN: Sometimes, I wonder how her ex-husband(Trevor Engelson) will feel seeing the woman that he lightly esteemed now becoming the Duchess of Sussex and the rave of the moment. Don't take people's love and care for granted, it will make you become a history in their life.
BE A GOAL DIGGER AND NOT A GOLD DIGGER: The legendary Muhammad Ali once said, "You lose nothing when fighting for a cause; losers are those who don't have a cause to fight for". Meghan became a popular and successful actress through dint of hard work and perseverance. She became an advocate for gender equality and women empowerment. She was a voice for many and became a Global Ambassador for World Vision Canada. Her relentless believe in gender equality singled her out as a UN advocate for women. She owns her own Clothing Line and also the Founder and Editor-in-Chief of her own blog. She wasn't just sitting and idling away her time waiting for a prince, she was a princess in 'spirit' and this automatically drew her to meeting her prince charming.
NO CONDITION IS PERMANENT: Long before ever dreaming of becoming a royal princess, Meghan Markle was a regular teenage tourist at Buckingham Palace. A newly-surfaced photo shows the Duchess at 15 years old, posing in front of the iconic royal residence during a trip in the summer of 1996.  One of her childhood friend confirmed that the little Meghan had always been drawn to the epic edifice (Buckingham palace), never knowing that it will one day become her traditional place of abode! Twenty-one years after that photo was taken, Markle is set to be a new member of the royal family. She's already moved out of her Toronto home and into London. Though she won't be living at Buckingham Palace, she won't be far off. She and Prince Harry will be shacking up together at Nottingham Cottage in Kensington Palace, where they'll have the Duke and Duchess of Cambridge, Prince George, Princess Charlotte, and the future royal baby as neighbors. Don't ever kill your curiosity for something that looks unattainable, it might just be where God is taking you to! No condition is permanent.
DON'T EVER GIVE-UP ON LOVE: You may need to leave an abusive relationship in order to get back your sanity and self-esteem, but never ever give-up on love. Take another go at love and strive to make it better. You are lovable, the problem may not be the intensity of love but the quality of people you are loving. There is hope that someone will come along and appreciate your true love and love you genuinely too. The end of one marriage does not mean the end of your life. Work hard to pick up the pieces of your life and start all over again. So count your gains and move on.
DON'T ALLOW YOUR BACKGROUND TO PUT YOUR BACK ON THE GROUND: Where you are coming from is not what defines you but rather where you are going in life. Your family background is not a limiting factor to anything. Do not let society define who you are. If the duchess of Sussex was to be selected on the premise of background, then Meghan Markle doesn't fit in! Nothing about her fit the normal royal family brides, but she rose beyond her background to become an enviable figure.
YOU ARE PERMITTED TO START SMALL BUT DON'T REMAIN SMALL:   As an actress, Meghan didn't enter the show biz world in a grand style; she actually started as a briefcase girl! She was a "briefcase girl" on "Deal or No Deal". She was a Briefcase girl – one of the models who holds the suitcase full of cash on the US version of deal or no deal. Do not despise the days of humble beginning. Her major breakthrough came when she starred as Rachel Zane, a paralegal-turned-lawyer, on the USA network legal drama "Suits". Start small even as a brief case girl or tea girl or a secretary but don't stay small. Dream and think big, stay focused , keep your eyes on the ball and aim for the stars.
IN EVERY DISAPPOINTMENT, THERE IS AN APPOINTMENT: No matter the level of disappointment you've been through in life, always remember that you have a date with destiny! You may have to kiss a few frogs before you meet your Prince. Don't define your life by what is not working, always believe that you are full of possibilities. Hellen Keller once said, "A happy life consists not in the absence, but in the mastery of hardships".
DON'T EVER SETTLE FOR LESS: Maureen Dowd said, ''The minute you settle for less than you deserve, you get even less than you settled for". The greatest tragedy of life is not that we set high aim and miss it but that we set low aim and reach it! Strive to never settle for less in every area of your life: In your marital life, career, academics and ministry. There is no passion to be found in settling for a life that is less than the life you are capable of living.
YOU WILL MEET THE LOVE OF YOUR LIFE WHEN YOU KEEP DOING WHAT YOU LOVE DOING: Many times in the process of keeping at what we love doing, we stumble on the love of our life! Meghan's original passion to be a voice for the voiceless and speak up for vulnerable women and children was one of the major thing that sparked Prince Harry's heart on fire to have her. She will be suspending every other thing (her lifestyle blog/website called "The Tig" and her acting career) as she flies around the world with the Prince in bringing smiles and purpose to the faces of vulnerable children and women.
AGE IS NOT A BARRIER: Love doesn't care if someone is older or younger, but we certainly do! Age is just a number, love is everything. Prince Harry and Meghan Markle have many things in common, but their age isn't one of them. At the age 36, Meghan got married to Prince Harry of England who is 34 years. Society holds a negative stigma regarding age differences (especially when the woman is older), which causes people to obsess over it. Allow love to work its mysterious magic if you find yourself having a special connection with someone who is older or younger than you. Explore it and let it grow beautifully.
KNOW YOUR WORTH: There will always be someone who can't see your worth. Don't let it be you! When you start seeing your worth, you'll find it harder to stay around people who don't. Women, know your worth. Making yourself lesser than a man will never get you a husband. It will get you into slavery. Marry your equal partner. Don't let anyone make you feel bad because you are a single mother or single. Leave an abusive relationship and never make someone a priority when all you are to them is just an option. Always make yourself a priority. Love yourself first, no one else will do it. Treat yourself right. That's how others will treat you.
IF GOD BE FOR YOU, NOTHING CAN BE AGAINST YOU: You are not finished when people are finished with you, you are finished only when God finishes with you! All odds were against her. First, she is half black, half white (Biracial). Secondly, she was married before at age 30 and divorced two years after. Thirdly, she's not royal or an aristocrat. She's definitely not a virgin, and as an actress has kissed other men several times! When God is for you, every other thing will work for you.
WHEN IT IS YOUR TIME, EVERYTHING WILL WORK FOR YOU: God's timing is the best! The Bible says, "God makes everything beautiful in its own time". While marrying an American divorcée used to warrant abdications from the royal member of the family in question – such as the case with King Edward VIII, who stepped down from the throne to marry the previously married Wallis Simpson – times have changed and the British monarchy is now much more relaxed about it. When the time of a man comes, the natural rules and laws will be suspended!
YOUR FUTURE IS NOT ATTACHED TO SOMEONE THAT LEFT: Everybody comes into your life for a reason and season. To be truly happy in life, you must let go of what's gone. Be grateful for what remains. Stop looking for happiness in the same place you lost it; move on with your life. When people can walk away from you, let them walk. Your destiny is never attached to anybody that left. True freedom is learning to detach yourself from people, places and perspectives that are no longer in tandem with your destination. I must really emphasize here that every marriage is worth fighting for and that God hates divorce. Nevertheless, you must never be too much attached to people that you are afraid of losing them at the detriment of your own life! One can only imagine where Meghan will be today if she was still in her first marriage which was less empowering and less fulfilling for her. Always be where you are celebrated and not tolerated.
BEAUTY BEGINS THE MOMENT YOU DECIDE TO BE YOURSELF: Leonardo Da Vinci once said, "Simplicity is the ultimate sophistication". One of the things that amazes me about Meghan's wedding costume was her depth of simplicity. No eye lashes, little or no make-up, and no excessive painting of the face. Even the jewelries were very simple. Our young ladies and women need to seriously learn that the greatest secret of a successful appearance is 'be yourself'. You are amazing just the way you are!
You alone determine how your story will end. Christine Mason Miller once said, "At any given moment in life, you have the power to say: "This is not how the story is going to end". Our biggest problem in life is self-awareness, the ability to fully realise who we are and what we are truly capable of doing. Despite all the intimidating odds that stared Meghan in the face, she rose above them all to become the Duchess and the newest entrant into the royal family. If she can surmount the odds, then you can also!
QUOTE OF THE WEEK: "There will always be someone who can't see your worth. Don't let it be you"- Mel Robbins