Hot Gists
Actress Gloria Mba's Marriage Crashed: Thelma Ozy Nwosu Now Dating Her Husband, Leo Kanu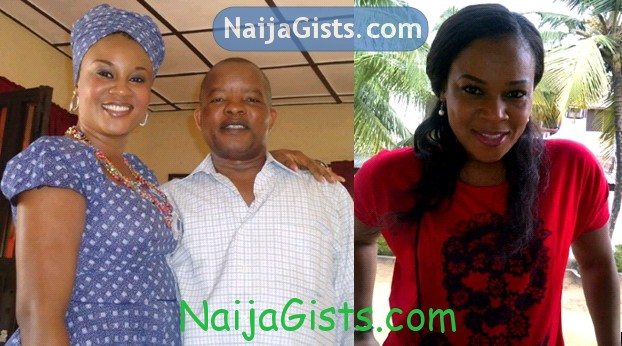 Nov 27, 2012 – Actress Gloria Mba's Marriage Crashed: Thelma Ozy Nwosu Now Dating Her Husband, Leo Kanu
Fast rising Nollywood actress Gloria Mba has lost her beloved husband, Leo Kanu to Thelma Ozy Nwosu a popular Nollywood make-up artiste who is the former girlfriend of comedian Yaw (Steve Onu). naijagists.com
In this latest revelation by Stella of Encomium magazine, Thelma is currently in a messy husband-snatching scandal.
12 months back, there was buzz online and in Nollywood that Thelma was dating A-list actor, Segun Arinze and almost crashed his marriage to Schlumberger lawyer Julie.
Insiders confirmed it took prauerd and fasting to get Thelma off Segun's arms. This led to Yaw dumping Thelma. And as you read this, Yaw and Segun do not speak!
Thelma is in the news again and this time she has crashed the marriage of her best friend, actress Gloria Mba, whose Marriage was contracted to Houston-based, Leo Kanu on March 27, 2011. Gloria announced, via her Facebook handle that her marriage had crashed.
Insiders informed us that Thelma and Leo, who have been having phone sex met in Berlin(Germany) and consummated the affair. The trip was all expenses covered by Leo, the smitten lover boy.
We contacted Gloria on sunday, Novembar 25, 2012 and after asking her questions she cuts the call after denying that her marriage has crashed.
We called back and rephrased the questions and sighing deeply she
opened up, "Yes my marriage is over and yes, Thelma is part of the
reason it crashed."
We asked her what happened and what role Thelma played in the crash. "I
read Thelma and Leo's mails to each other and Thelma didn't know I knew
they are dating. I bumped into his inbox. We have our passwords and I
just wanted to check, I never bothered to check all this while out of
trust and but I just got curious and checked it and got a shocker."
We asked her to cop us the mail and if she confront Thelma when the
marriage is already over and no, I cannot copy you the email. I just
want to move on. My ex-husband's friend asked me to confront them but there's no need because it will change nothing. I took Thelma like my own sister and we were so close."
To be fair, we called Thelma and here's what went down, "Thelma, we heard you crashed your friend, Gloria Mba's marriage.
Her response, " Oh my goodness, this is not real (laughing) Is her marriage crashed? Has she called me? I know her husband and I was at their wedding. Oh my God."
Thelma, we heard you have been mailing Gloria's husband and having phone sex with him. Is this true?"
Thelma dropped the phone and we called back but she refused to pick the phone, despite the number of times we tried.(Story courtesy Encomium magazine)