Hot Gists
Tokunbo Melaye Confronts Dino Over Bisi Ibidapo's Pregnancy
Oct 10, 2012 – Tokunbo Melaye Confronts Dino Over Bisi Ibidapo's Pregnancy
The legal wife of Dino Melaye, Mrs Tokunbo Melaye has expressed her displeasure over her husband's impregnation of star actress Bisi Ibidapo Obe. naijagists.com
According to sources close to her, Tokunbo Melaye is a cool-headed and gentle woman however she has been stretched too far.
Dino Melaye who is an activist against corruption and bad governance has reportedly denied impregnating the actress.
According to an email we received from sources close to Bisi Ibidapo, we learnt the two (Bisi & Dino) dated for few months under the false pretense that he (Dino) has separated from his wife, Tokunbo.
The problem started when Bisi Ibidapo broke the news of her pregnancy to him.
Saddened by the news of Bisi's conception, Dino who is already married with 3 beautiful children varnished into thin air.
His lack of contact forced the actress to voice out.
In response to the pregnancy tale her husband is caught in, Tokunbo took to twitter to tweet some sarcastic tweets about the issue, which has lingered on for some weeks now.
We learnt Tokunbo first questioned a lady who used Dino Melaye's picture on her tweeter handle and here is what she said:
"hi babes, just wondering why you have my husband's pix as your avatar?! I'm so sure he's not the 'D' (Dino)?!
Her subsequent tweets and re-tweets read:
"You have a Masters degree in lying, but I have a PHD in detecting bullsh*t! Don't lose yourself, trying to hold on to someone who doesn't care about losing you! If you want me, show me. If you need me, tell me. If you have me, show me off. If I'm worth it, fight for me.
"Trust is like paper…Once it's crumpled, it can't be perfect again. There's a limit to what one can take, if you keep piling load on the camels back, there comes a point that back will surely break! Never lie to the girl of your life, for the girl of the night.
"If you succeed in cheating someone, don't think that the person is a fool … realize that the person trusted you much more than you deserve. I forgive a lot, but I never forget what's said and done."
On the 7th of Oct, 2012, Tokunbo concluded her tweets with the following:
"I rest my case, I hold my peace. One day the truth will [be] 'out' and everyone will know what you are! :-D (Dino?)."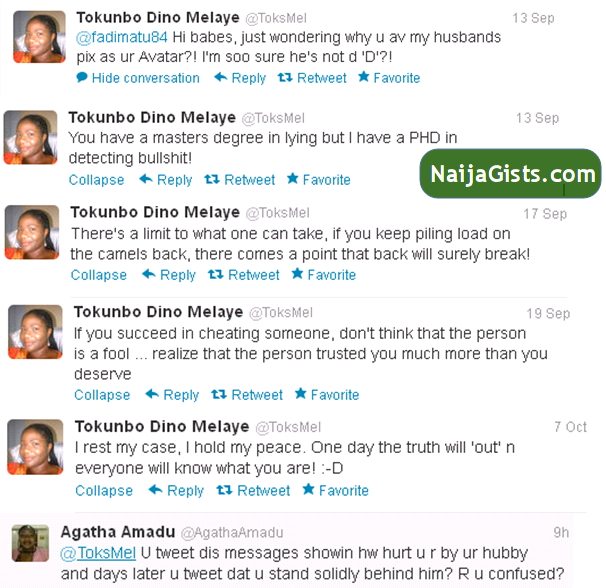 What a poor woman! Things dey happen for this world o.