Segun Akpata
Nov 18, 2011 – Total Nigeria fires Segun Akpata
According to News of the people, uneasy calm engulfed the headquarters of Total Nigeria last week when the news of the exit of its executive director, Segun Akpata was made public. Conflicting reports have it that the former Executive Director of Human Resources of Total Nigeria was sacked over some controversial matters; others however say he voluntarily resigned for better challenges. Meanwhile, a very reliable source hinted this magazine that Mr. Akpata's exit was more controversial than what many people had reasoned, saying even if he claims to have resigned there is every possibility that he was forced to do so.
Others affected are legal affairs manager, Stanley Onuosa and legal officer North, Wesley Tafida. They were alleged to have connived in one way or the other in selling the Abuja property of Total in a manner that was suspected to be fraudulent. According to an insider, the property was allegedly sold for N500million but a lesser amount of N250million allegedly got into the company's account. Investigation by the company was said to have prompted the head office in France to order a probe into the dealings that are fast claming casualties at the moment. As at last week Friday, all official properties of Total which include phones, laptopsand the rest of such were retrieved from the affected staff. Although it was suggested to the management to change their sack into resignation, but it was gathered that the parent office in Paris insisted that those affected must be booted out. The Abuja property which is now in the centre of the scandal still houses Total at the ground floor as a tenant. (naijagists.com)
When the Corporate Affairs Manager of Total, Moyo Areola was contacted, she denied that Akpata was sacked; rather she informed that he voluntarily resigned. According to her, his resignation has nothing to do with the Abuja property sales or any scandal for that matter.
It would be recalled however that the oil company has been passing through a rigorous and trying period in recent past, when it embarked on strategic restructuring in its management position. The process saw Jeff Nnamani from GM Sales to newly created Strategic Unit, and GM Marketing Jerry Ikhine moved to be Special Adviser to the new Managing Director,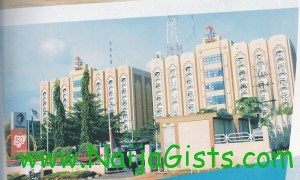 Sold Abuja building
Same with Awoleke Awofeso and Bisi Uwaoma who have been moved from their respective former positions. To further show that things are not going well in the company, the management encouraged staff members to provide information that could help it in its reform effort through a whistle-blowing number recently created.