Hot Gists
Beware Of Toxic And Jealous People!!!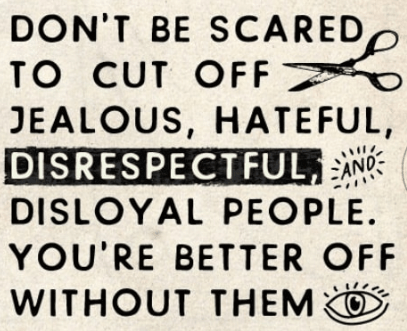 Beware Of Toxic And Jealous People!!
Before you read this piece, note that I'm only using it to address Nigerians, Non Nigerians are invited to comment without abusing my country of birth.

If you post any sh*t about my country, I will remove your comment. 
I have held this topic for so long and I decide to put this out today because I have had enough of this madness.
Some Nigerians on the social media are toxic people please beware of them.
I launched a cool business doing really well few months ago and could you believe some jealous and toxic Nigerians were hell bound on destroying this business.
I really can't imagine how stupid some people are.
These are lazy people who lack motivation and have no direction for their lives and anytime they see others succeeding, all they know to do best is to try and ruin it.
I'm not surprised at all. We are only human but some Nigerians are just full of it.
Thank God for some intelligent Nigerians who will never wish others bad.
My advice to anyone dealing with toxic and jealous Nigerians is to tell them to get the f**k off and mind their business and if they won't listen, simply ban them and cut off all relationships with them.
These are people that are going no where and if you relate with them too much, they will drag you down to their level.
When I launched **********  months ago, some jealous Nigerians started saying rubbish on the social media that I don't know anything.
To the glory of God and to their shame, I currently have 289 Ghanaians, 165 South Africans, 782 Americans, 52 Canadians and 102 really cool Nigerians I'm coaching through that business (I will not share anything about that business here) Ota po ju enemy lo.
These toxic and jealous Nigerians are low-life people who have no direction whatsoever for their lives.
I was even pissed to the extend that I wish to shut down NaijaGists.com and stop writing about anything Nigeria but because I'm more passionate than these low-lives, I have decided to not allow my passion to die down.
Come to Canada and see how Ghanaians and other Africans are supporting each other, but most Nigerians will not support their own, they prefer to shop at Ghanaian-owned African stores than patronizing their fellow Nigerians.
I'm done with the excesses of most Nigerians and I can't really deal with it anymore.
It is time I let go of few bad eggs among us and move on with the intelligent and God-fearing ones.
Don't get me wrong, there are so many cool Nigerians at home and abroad but the BAD EGGS  among us are the problem.
Please tell these stupid ones to get the f**k off and only relate with the INTELLIGENT and FORWARDING THINKING ONES.
Going forward, I will never share any of my business dealings on this blog.
I will limit the time I spend on Nigeria related matter and move on with life.
I'm really pissed off.
Be careful the type of Nigerians you relate with.
Please don't get me wrong, there are really cool, laid back and honest Nigerians all over the world but the BAD EGGS among them are many.