Crime News
Truck Crushes Bicycle Rider To Death At Ogere Toll Gate On Lagos Ibadan Expressway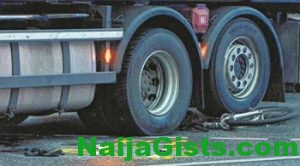 October 19, 2017 – Truck Crushes Bicycle Rider To Death At Ogere Toll Gate On Lagos Ibadan Expressway
A speeding truck today killed a bicycle rider on Lagos Ibadan Expressway.
An official of TRACE, Mr Babatunde Akinbiyi who confirmed the incident to reporters this afternoon said the tragedy was caused by the recklessness of the driver behind the truck with registration # ARG 179 XA.
He added that the incident happened at Ogere toll gate axis of the expressway.
Akinbiyi said the corpse of the deceased had been handed over to his family for proper burial.