Crime News
Uniport 4 Murder Reprisal Attacks: Aluu Villagers Count Losses After Students' Protest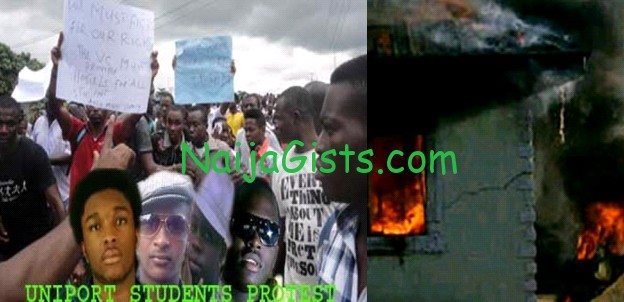 Oct 11, 2012 – Uniport 4 Murder Reprisal Attacks: Aluu Villagers Count Losses After Students' Protest
The villagers of Omuokiri Aluu in Port Harcourt are counting their losses one day after faithful Uniport students carried out series of reprisal attacks on the village in revenge for the brutal murder of their fellow students last week Friday. naijagists.com
Several angry students stormed Aluu on Tuesday burning down cars, houses and several properties in revenge for the killings of Chidiaka Biringa, Ugonna Obuzor, Tekenah Elkannah and Lloyd Michaels.
Sunday Ahanonu, one of the chief in Aluu village said he has lost everything he laboured for in the attack.
65-year-old Ahanonu who is a father of 15 children said he worked at UNIPORT for over 35yrs before retiring.
His property including N850,000 cash was destroyed by the students.
Here is what Ahanonu said:
"I am a retired civil servant. I worked with UNIPORT for 35. But all I have achieved for many years have been destroyed by students from the university. I don't know where my family and I will lay our heads when my only house has been burnt.
"I lost the sum of N850,000 cash , which I kept in my house. I could not take the money to the bank because I was not feeling okay and went to the hospital. It was at the hospital that I learnt that my house was burnt by the students."
A woman identified as  Pauline Nwakwo, said:
"As a woman, I had to run away when we noticed that the police were embarking on mass arrest. The students broke the door to my bar and took away a deep freezer I bought for N66,000. I want government to pay me back all I have lost.
"The students were killed far from here at the Burrow pit. We don't know anything about the killings of the students."
Indigenes of the community were also seen leaving their homes in droves to other places in order to avoid being attacked by the students.
One of them, who gave her name as Comfort, said she was relocating her children to Elele in Rivers State and would only return to Omuokiri Aluu whenever normalcy returns.
An artisan, Mr. Wisdom Ajuwon, who repairs home appliances along the Omuokiri Aluu Road, said he lost property worth about N500,000 to the riotous students.
Pastor John Paul who lives in Aluu said the situation in the village now is very tense. (Punchng)
People were seen fleeing their homes to take refugee in different places.
The judgement of God has just started on these evil people.
How can you shed 4  innocent bloods in one day and go scot-free?.