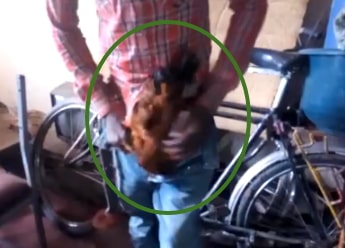 In a short video clip going viral online, a man from Uganda shocked everyone with his bizarre stealing technique after he was caught with a stolen chicken.
The unnamed man hid the live chicken in his trouser after his visit to a poultry farm before luck ran out on him when some vigilant villagers arrested him.
In the viral video, he was asked why he used the infamous technique but refused to give a satisfactory answer.
He was forced to unzip his trouser and bring out the live chicken.
Watch the short clip below