Columns
Wake up, GEJ! Wake up, Mr President —Dimeji Daniels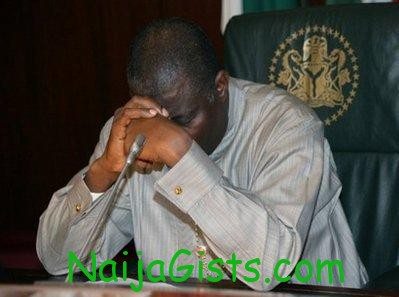 May 30, 2012 – Wake up, GEJ! Wake up, Mr President —Dimeji Daniels
I doubt if President Jonathan ever bothered to read his inaugural speech after May 29, 2011. Jonathan, like most presidents before him and governors too, probably considers the inaugural speech an academic exercise that should soon be discarded as soon as it is over. I doubt, and I am willing to bet my salary on this, whether some of them even keep a copy(ies) of their inaugural speeches afterwards.
I have read several inaugural speeches by Nigerian governors and presidents (forgive the sickening way some of the speeches were crafted) that overtime I have come to believe strongly that is either they don't bother to read the speeches once in a while afterwards or that the pressure and responsibilities of the job become too complicated for their brains. If not, how did we find ourselves in this situation? Why would GEJ endlessly bungle the presidency? We all know, as he said, that the problems of Nigeria did not all start in his time, but we also know that Osama bin Laden was already a menace to the US before the Obama presidency and yet Obama saw to his crushing. But who am I kidding? Why should I compare America with Nigeria? Our own leaders apparently lack sense of duty, the leaders of the other country do not. So what is the basis for comparison? NONE!!!
Despite their failings, should the Nigerian leaders flip through their inaugural speeches once in a while, maybe, just maybe things would have been different? If President Jonathan does it, he would have by now known that he has expressly failed Nigerians and that at the rate he is going, he doesn't seem to have any clue as to how to proceed. The so-called progress his government daily celebrates and vociferates about through Labaran Maku is at best described as moving round in circles, which is worse than retrogression (backward movement), for in retrogression there seems to be a destination, but sustained movement in circles will certainly, someday, along the line, result in spinning which could set us off-balance and make us collide with unforeseen objects. I doubt if even we are not already in that state. Was Boko Haram's menace foreseen by our leaders? Clearly, their responses to the sect and their inability to stop it bear all the marks of being caught off-guard, like a child who gets too engrossed in spinning, forgetting that at the end of it (if he is not caught by strong arms) a fall awaits him.
Today, I can boldly challenge President Jonathan to tell me if he has any workable blue-print to turn Nigeria around! I know he will begin to sell his transformational agenda; we know about that one and it doesn't seem to be working. GEJ should come out boldly, without the prodding of Ngozi Iweala or Abati's no-longer-credible words, to explain if he has any clue about how to steer Nigeria towards progress or if he has the balls to see it through. We know for a fact that he is not a general as he says, but he cuts the figure of a man overwhelmed by events around him. Also, his tendency to vacillate makes him appear like a poor and incompetent leader. I challenge him to prove to me that the decision of my aged grand-father to vote for the once-shoeless Otuoke boy would not be a historical mistake! As a Nigerian who is well aware of his rights and the provisions of the Freedom of Information Act, I challenge Jonathan to explain to me if he really understands the complexities of the various policies he is being spoon-fed with by people like Okonjo Iweala!
Towards the end of last year, Labaran Maku, Diezani Madueke, Okonjo Iweala, Sanusi Lamido (just to mention a few) flooded our public life with reasons the fuel subsidy has to give way. They told us it was for our own good. Well, as it turned out, it was for their own good. Almost N3 trillion, according to the House of Representatives probe, was expended right under Jonathan's nose as fuel subsidy. Why then the lie that it was only N1.3 trillion? While a waste management company and other money-sucking companies were tasked with the importation of PMS and were smiling to the banks, Nigerians like me were groaning under this Jonathan policy (or is it Iweala's policy?) Yet, in paragraph 30 of his inaugural speech, GEJ said: "Fellow citizens, in every decision, I shall always place the common good before all else." Was removal of fuel subsidy, as we now see, for common good? How does punishing the poor for the greed of the rich amount to a common good?
He went on: "The bane of corruption shall be met by the overwhelming force of our collective determination, to rid our nation of this scourge. The fight against corruption is a war in which we must all enlist, so that the limited resources of this nation will be used for the growth of our commonwealth." Well, Mr President, most of the masses have already enlisted in the war, but have you? Have members of your cabinet enlisted in the war? With Adoke's initial dilly-dallying about the subsidy probe and with your handing it over to the EFCC, it would seem you also believe, like your Attorney-General, that it was all a fact-finding mission.
Besides my aged maternal grand-father who voted for you, there was a 103 year old man who participated in the election and a certain Emmanuel Bamidele Orevba (mentioned in your speech) who, though not a politician, campaigned vigorously for you and later died from celebrating your victory, a victory he probably thought would bring succour to his children and children's children. But how would he feel in his grave now? Happy? Disappointed? What about the corps members who worked tirelessly during the election only for some of them to lose their lives in the aftermath? We know the surviving ones have been repaid with delayed payment of their allowances. What about the dead ones? Shouldn't President Jonathan honour them with a sterling performance so that they wouldn't die in vain? Was the death of the Nigerians who lost their lives during the fuel subsidy protests for a common good? Were those prevented from protesting at the Gani Fawehinmi Freedom Park treated so for the Jonathan-implied common good?
Going through Jonathan's inaugural speech again, I could not but conclude that he has nothing to celebrate in his one year in office. Ignore all those on-the-paper achievements being reeled out by his ministers; Nigerians are not fooled! Except if those achievements happened somewhere else or all Nigerians took a vacation and did not know Jonathan has done so much for them. Electricity supply is still bad! Potable water remains a dream! Insecurity is sky-high! What is it that the Jonathan administration would be celebrating? The scores killed by Boko Haram? The disoriented, hungry and willing but unemployed Nigerian youths? The pension scam or its twin, the subsidy probe roguery? The un-motorable roads?
Oh! We know he didn't cause all the problems, but he did promise to fix them! It's his job to fix them! "The time for lamentation is over. This is the era of transformation. This is the time for action… Let us all believe in a new Nigeria. Let us work together to build a great country that we will all be proud of. This is our hour. Fellow Compatriots, lift your gaze towards the horizon. Look ahead and you will see a great future that we can secure with unity, hard work and collective sacrifice. Join me now as we begin the journey of transforming Nigeria. I will continue to fight, for your future, because I am one of you. I will continue to fight, for improved medical care for all our citizens. I will continue to fight for all citizens to have access to first class education. I will continue to fight for electricity to be available to all our citizens. I will continue to fight for an efficient and affordable public transport system for all our people. I will continue to fight for jobs to be created through productive partnerships. You have trusted me with your mandate,and I will never, never let you down. I know your pain, because I have been there. Look beyond the hardship you have endured. See a new beginning; a new direction; a new spirit. Nigerians, I want you to start to dream again. What you see in your dreams, we can achieve together," so he declared in his inaugural speech, only that we don't see him fighting. Oh yes! We believe in a new Nigeria, but Mr President has not given us much to believe in. Just fickle promises! Those are wearing us out!! And Nigerians have risen from their dreams. Never again will they be sent to the dreamland of lies and clueless leadership! We believe in dreams, but not here, not now. And we believe in God also, but Mr President should stop pushing everything to God. If he fails, only him and him alone (not God) would be blamed. God has brought him from Otuoke village to Aso Rock in Abuja; it's time for him to impress God!
Rather than work to make Nigeria better, his supporters keep disturbing us in a mosquito sound-like way with his eligibility to contest in 2015 and this is already tearing the country apart contrary to another of his promises in his inaugural speech. He declared: "We will not allow anyone exploit differences in creed or tongue, to set us one against another." Well, Mr President, your campaigners and defenders (whether self-appointed or not) are already tearing us apart and unnecessarily heating up the polity, all for an irrelevant ambition that may never see the light of day.
Wake up, GEJ! Wake up, Mr President!!! Time waits not for you. Soon your administration will become history. What will history and Nigerians remember you for? Pick up a copy of your inaugural speech and read it again! You would discover that your government is not even crawling; it is dragging its buttocks on the ground like a cripple. Pick up your inaugural speech and get on the right track!!!
•Daniels writes from Ado in Ekiti State.