Hot Gists
2015 Presidential Election: Governor Fashola To Contest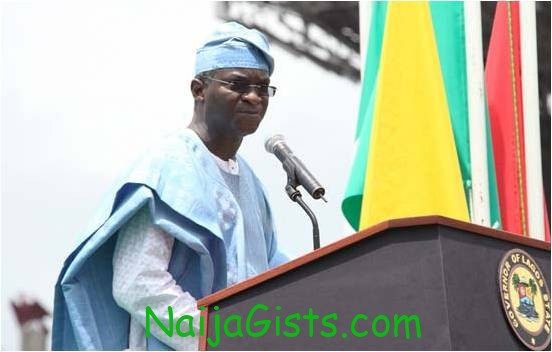 May 30, 2012 – 2015 Presidency: Governor Fashola To Contest
Lagos State Governor, Mr. Babatunde Raji Fashola, yesterday urged his supporters to count him out of the race for Nigeria's presidency at least in 2015. naijagists.com
Speaking at an interactive session to mark his five years in office and 2012 Democracy Day held at the Lagos Television premises at Ikeja, Lagos, Southwest Nigeria, Fashola said he has an assignment to govern Lagos State for the next three years.
The programmes was transmitted live by the state government-owned television station.
Listeners from the United States had through the internet chipped in the suggestion which Fashola's supporters have been speculating for some time.
But Fashola said: "Which President? FIFA President? I have an assignment in Lagos State which I will like to focus on in the next three years."
The Lagos State governor reiterated some of the achievements of his five years administration to include building express roads and expanding of existing roads in the first four years while in his second term in office, he had commenced construction of feeder roads in many parts of the state.
On agriculture, Fashola aid his administration had assisted fishermen in procurement of nets and to modernise their operations. He added that a rice mill will soon be commissioned at Imota near Ikorodu.
In order to boost vegetable production, Fashola said his administration has encouraged youths to take to farming with allocation of an acre of farmland, while necessary inputs and assistance were provided by government.
He said some youths were sent to Israel for training in modern farming.
However, he admitted the limitation of Lagos State on crop farming. He explained that Osun and Ogun states have agreed to lease out farmlands to Lagos for crop farming.
Fashola debunked claims that governors in the Southwest have not been doing much in agriculture. He pointed out that his efforts on rice production and others in five years have just started to yield results.
Speaking on transportation, Fashola said apart from improving road network, his administration had improved water transportation and concerted effort was being made to make nail transportation a viable alternative for commuters in Lagos State.
To further ease road transportation, Fashola said Lagos Traffic Radio 96.1 has been launched on Frequency Modulation (FM) band; as part of activities to commemorate his five years in office.
Speaking shortly before he made a broadcast on Lagos Traffic Radio, Fashola said commuters should know the situation on the roads before they depart their homes early in the morning.
The radio will presently transmit between 5 a.m and 12 mid night daily while it will later resume a 24-hour service.
The governor said personnel of the Lagos State Traffic Management Agency, LASTMA will man the radio station and inform commuters the situation on the roads, like where a trailer or container had blocked the road and alternative roads or routes motorists should take.
Leaders of the Action Congress of Nigeria, ACN, traditional rulers, market men and women, ACN supporters and former military governor of Lagos State, Brig-Gen. Mobolaji Johnson (retd) and the first civilian governor the state Alhaji Lateef Jakande who also made a broadcast on Lagos Traffic Radio, were in attendance.