Entertainment News
The Delivery Boy Nollywood Movie Screens At LCA Film Festival..Watch Official Trailer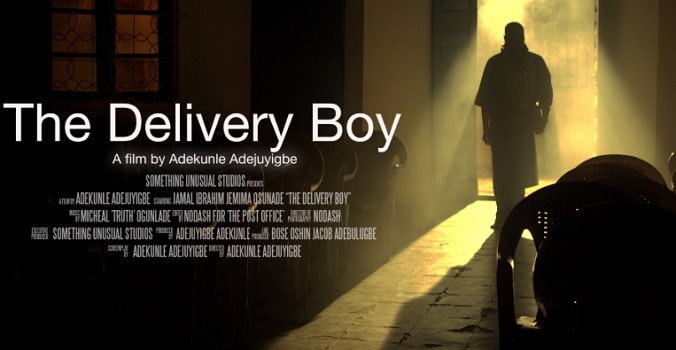 The Delivery Boy Movie Debuts At Lights Camera Africa 2018 Film Festival..Watch Official Trailer
Popular filmmaker Nodash's latest movie, 'Delivery Boy' was well-received my festival goers as it made its Nigerian debut at the Lights, Camera, Africa 2018 film festival which ended on Sunday.
Movie watchers were left in awes and shrieks as the movie which highlighted social issues like selling of children, homosexuality, radicalisation, terrorism, prostitution screened at the Agip Recital Hall of the MUSON Centre, Onikan, Lagos on Saturday.
Shot by The Elite Film Team and produced by Something Unusual Studios, 'The Delivery Boy' has been screened at the Nollywood Paris Film Festival and at the New York African Film Festival in May.
In the movie, Amir, a teenage orphan boy, runs into a young girl while trying to escape a mob. She is a prostitute with an agenda and he has a bomb vest under his dress. They are both running out of time and they soon realise they need each other to achieve their goals. Before the night ends, they will have to contend with each other, Amir's group, the knowledge of the terrible secrets that made them who they are, and the consequences of living in a society that doesn't care. Their journey takes them through the underbelly of the city exposing the hidden backside of the African society and its dangerous culture of silence in the presence of evil.
Shot in 2015 and 2016, the movie poignantly situates scenarios the country is currently enmeshed in. According to the director, Adekunle Adejuyigbe, who is popularly known as Nodash in Nollywood, the movie which gulped over N4.5m was a labour of love to tell unpopular stories.
"I was told not to make this movie," said Nodash.

"Three of the actors I casted, and the production designer I hired, turned down the project after reading the script. They all agreed it was a good script but they felt uncomfortable talking about the things that, in the Nigerian society, we typically refuse to talk about.

"On the financial side of things people felt it was crazy making a self-funded movie that would likely not be allowed to screen in Nigerian cinemas. They felt it was more prudent to make the usual slapstick comedies the Nigerian film industry (Nollywood) was known for.

"But these are the exact reasons why I felt it was important to make the movie. I believe one of the main purposes of Art is to 'tour guide' the audience through ideas and places that they normally wouldn't dare explore. I also wanted to present Nigerians/ Africans as I saw them.

"So why would a young suicide bomber runaway a night before a suicide mission taking the bomb vest with him? And why would a young prostitute agree to help him on his unknown, personal, mission.

"Who is responsible for creating these monsters that haunt us? And how would this story end? These are the questions THE DELIVERY BOY seeks to answer."
Watch the official trailer below