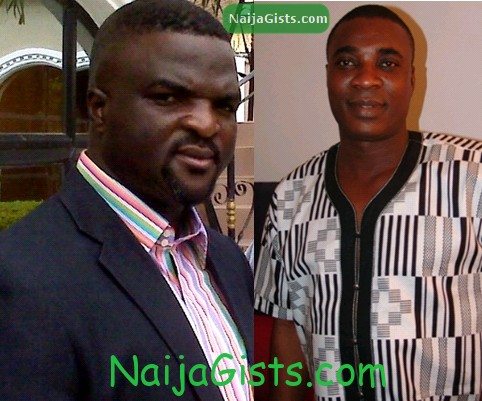 Obesere Calls Wasiu Ayinde K1 Greedy Beggar, Reveals Why Ambode Turned Down His Meeting Request
By VanguardNGR
New trouble is looming between Fuji stars, Ayinde Wasiu aka K1 and Alhaji Abass Akande Obesere, as Obesere has responded to the insults K1's aide recently rained on him.

Recall that in a recent report, Obesere had attacked K1 for his recent outburst on Ambode's leadership of Lagos State, labeling him a serial betrayal.

In an official statement made available to e-daily by Obesere's manager, Arems Adeniyi, Obesere described K1 as greedy, selfish and disrespectful.
See excerpts from the statement below:
"It's no longer news that Wasiu Ayinde has always been a greedy man who likes keeping everything to himself by every possible opportunity around him, but like it's been said that all things doesn't fall into places as there will be some drawbacks in life. The era of Ambode has not been favourable to him as it was in the past regime of the two past governors of Lagos state, Asiwaju Bola Tinubu and Babatunde Raji Fashola."

What do we call someone who is parading himself as the leader of Fuji music while we have Chief Ayinla Kollington alive? Alhaji Kollington Ayinla recently recorded an album, but it was later realized that the same Wasiu Ayinde confused the marketers expected to sell the album to ignore it due to his selfish and personal interest and because he thought Kollington must have scolded him in the album."

"Alhaji Abass Akande Obesere is a man of principle and a business man who doesn't have the adequate time to meet with people like a street beggar, going to their offices to constitute nuisance all because of money. He has been busy with varieties of shows both home and abroad. Alhaji Abass Akande Obesere only honours invitations where and when necessary which makes him remain on his stand as a man of dignity and principle."

"It can be concluded that Wasiu Ayinde's selfish interest was what made the governor deny him access to meet with him. We can only tell it to selfish Wasiu Ayinde to make amend of his ungodly acts and desist from evil."

"Wasiu Ayinde's motives can be based on his reactions as a man who won't like anyone to overshadow him. He has been observed as a man who is ready to tarnish and disrupt other people's image to become more influential. His Political ambition is not for the affection of citizens, but for fame. Without doubt, he doesn't want the progress of his colleagues in the Fuji music industry, but we can proudly tell it to the world that Alhaji Akande Obesere's success is destined by God and not by any man. We are still on our stand as personalities of principle".