Entertainment News
Wizkid Slammed For Disrespecting 2face At Album Listening Party In Lagos
Outrage As Wizkid Disrespects 2face At Album Listening Party In Lagos
A new video footage showing popular Nigerian Afro-pop music sensation, Wizkid, exchanging pleasantries with Afro-pop music legend, Innocent Idibia, a.k.a 2baba during a social gathering, "Wilmer" album listening party, in Lagos, has sparked debate on Twitter.

The debate followed a comment by a twitter user, @IdBoss2 who tweeted the video clip and called Wizkid a proud fellow. He also accused Wizkid of arrogance for allegedly greeting his elder in the music industry, 2baba, 'in what he described as disrespectful manner.'

According to him, "When we say Wizkid is arrogant, his fans will call us haters. How can you greet 2 baba like that To even see that he looked away after shaking pato, then 2 baba had to stretch his hand to shake him. SMH"

In the video footage, the 'Fever' crooner was seen greeting 2Baba, his wife, Annie and Patoranking.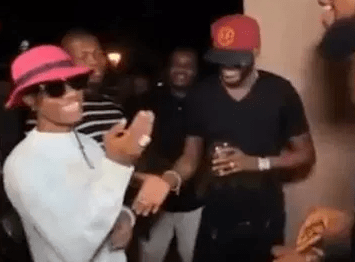 Wizkid is seen shaking 2Baba's hand with his two hands and even gave a bow before leaving but the twitter user, @IdBoss2, would not accept this as he said Wizkid looked away and that 2Baba had to stretch his hand before Wizkid shook hands with him.