Hot Gists
Woman Gives Birth To Goat Baby In Jigawa, Nigeria(Photos)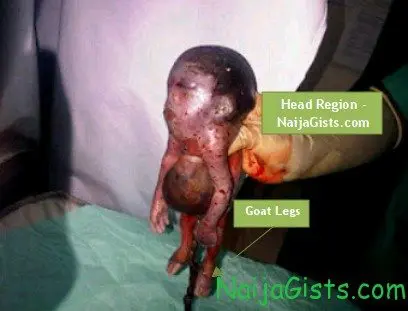 Sept 24, 2012 – Woman Gives Birth To Goat-like Baby In Jigawa, Nigeria
A woman who has been plagued with the same disaster 4 times just gave birth to (delivers) a goat-like baby in Jahun, Jigawa State, Nigeria. naijagists.com
As at the time of this report, the goat-like monster creature is currently on the hospital bed.
According to eyewitnesses from the hospital, the monster baby is without neck and with visible goat legs.
The woman who cried out in horror claimed this is the fourth time of her experience giving birth to monster creatures.
Here is what she said:
 "I am delivering of such unimaginable element 4 d fourth time".
Do you think this is a normal birth deformity? or could it be a spiritual attack?