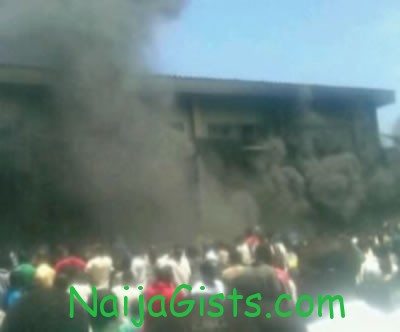 Sept 23, 2012 – Bauchi Church Bombing: Suicide Bomber & 2 Others Dead
Contrary to reports claiming 50 people were killed in Sunday's suicide bomb attack in Bauchi, we can now confirm that the suicide bomber and 2 other people have died. naijagists.com
Here is a confirmation report from NEMA officials:
"Apart from the suspected suicide bomber who was killed by the explosion, a woman and a child also lost their lives after the incident," NEMA spokesperson, Yushau Shuaib, said in a statement.
"Twenty two other injured victims are currently receiving medical treatment in hospital in Bauchi."
On Sunday morning, a bomb planted in between St John's Catholic Church and an Anglican Church in Wunti area of Bauchi exploded.
The injured victims have been transferred to Tafawa Balewa Teaching Hospital for medical treatment.
As at the time of this report, no group has claimed responsibility yet.
Regardless of the ongoing raids on Boko Haram sect, they have vowed to continue their violent attacks in several hideouts around Nigeria.