Crime News
Woman Rescued From Kidnappers, Ritualists In Agege Lagos Narrates How God Delivered Her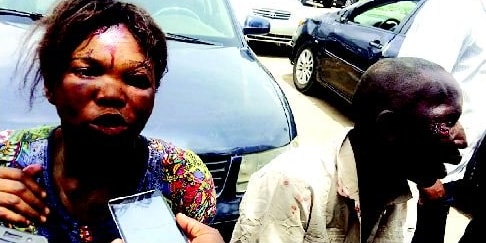 A hotel worker was on Monday rescued from the hands of some suspected ritualists in Agege area of Lagos.
The lucky escapee, Omoniyi Abidemi boarded a bus while trying to beat the traffic only to discover that those inside the bus 're ritualists.
Here is what Omoniyi told reporters yesterday while police parade the suspects.
"I had opted for the vehicle because there were too many people at the bus stop and no tricycle was going to Pen Cinema. So when the vehicle came and said the fare was N100, I just joined it. It was only the driver and a woman that were in when I joined. Few metres away, two others entered the vehicle pretending to be passengers.

"I knew I entered a wrong vehicle immediately the driver started telling the female passenger (Blessing Nwaeze) that she did not lock his boot properly. He said the woman did not tell him she had dollars in the boot and for that reason, everyone in the car would share it.

"As soon as I heard that, I told myself these were fraudsters and I asked them to drop me. But they refused. The next thing, the woman held me and the old man (Monday Onwuka) started fondling my breast. The driver brought out a simcard and put inside a phone and called someone that they were on their way with the items.

"They told me they will cut off my breasts and other parts and that a customer was already waiting for us at Ibadan. The old man said I will die today that no matter how I screamed, no one will hear my voice.

"Fortunately, there was a man that has been observing what was happening. The driver got to a busy spot and raised the alarm. He said he has been hearing my voice and it seemed I was shouting for help. He asked them who I was and the woman immediately said I was her younger sister and that our parents said they should bring me home.

"I told the man I do not know them and that I had entered the vehicle thinking it was a taxi. That I only have my makeup kits in the bag I was carrying and not clothes as they claimed.

"That was when people gathered and started beating them. They were four but one was able to escape while the other three were beaten and handed over to the police."
The suspects who denied being ritualists, insisted that they were just fraudsters looking for victims to dupe.