Nollywood
Yomi Fabiyi Debunks Divorce Report, Says Marriage To British Wife Still Intact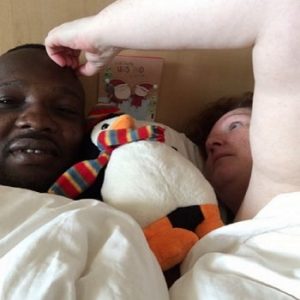 Nollywood actor Yomi Fabiyi who buried his mother recently had a lengthy chat with TS Weekender early this week where he talked about his late mum and how her advice has continued to sustain him in his career.
He also narrated how a fan offered him free sex.
See excerpts of the interview:
Tell us about growing up.
How many are you in the family? Were you born with a silver spoon?
I was born and brought up in Somolu Local Government Area of Lagos State. I am the second child in my family. I was born in a family where we were taught the value of both the silver and gold spoons. My parents made us realise that having these spoons earlier is not as good as being taught about the values beforehand. They knew that at a point, we would have either of these spoons if they raised us well. I'm very grateful to them.
Before you came into Nollywood, who were your role models?
My mother was and still is. Though, I have a few acts that I respect and admire a lot. I could not make them role models then because I knew next to nothing about them as at that time.
You are young, handsome and work in an industry where there are so many beautiful women. Are you in a relationship?
I am married.
How about this report that a popular Nollywood actress broke your marriage.
Is it true or was it just a rumour that was cooked up by haters?
It was misconstrued. I guess the reporters deduced a different meaning to what I said. In this job, such is expected.
How do you feel when you read or hear such reports about your marriage and how does your wife take it?
It hurts sometimes and the best I can do is to ignore such reports. You can only see me fight back if I notice any direct pull down, especially when I know I have done nothing to warrant such. Be that as it may, one must accept such news about us whether positive or negative. It is part of the game. I accept most in good faith. I read or ignore, then I move on.
What is the craziest thing a female fan has done to you?
A young lady once walked up to me that she wants to be my slut for free. She dragged me to a dark corner and gave me a kiss with her body shaking.
How do you handle such situations with women and what are the things you do to protect yourself? Doesn't your wife get jealous or think she might lose you?
Maturity is needed to deal with women. The best way to protect one's self is to be liberal-minded. See friendship in all of them even if the advances are so obvious. Not everybody that comes to my street must enter my door. I really don't know if my wife gets jealous, but of course, she knows it is not an easy task if she tries to wade female fans off me. That could hurt my brand as well. Moreover, I need them more.
You lost and buried your mum recently. When you heard the news of her demise, how did you take it?
It was unbelievable and shocking. I never imagined the news would come to me that simply. It may probably be because it was my dad that broke the news to me. I never expected nor envisaged it. I was in London and I guess around that time, she was already dying. Just yesterday, I was using her lifestyle as a reference to a woman. I was just praising her but I pray she rests well in the bosom of the Lord.
How close was she to you?
If you are asking how close my mum was to me, it means you want my tears. I asked her to come live with me so I can take care of her. I literally asked her to stop working. She lived with me for over eight years till she passed on. She is next after God to me.
What was the best advice she gave you that has sustained you till today?
She advised me a lot but the most important advice she gave me that has really helped me in my career till today is to be honest, care for others and be loyal to people. She also advised me to always have the fear of God in everything I do.
Could you recall any special moment with her?
There are so many. There was a time she held me on the street while I was very sick, looking for help so she could go pay for hospital bill. Another was when she prayed and fasted with me. While I broke the fast as early as 12 noon she continued till 6pm. She went on to do the remaining six days while the one who needed the prayer and fast most was busy eating. I bet no other person can do that for me.
What will you remember most about her?
Her humility and care about other people. No one has any offence or bad report against her. Throughout my growing days, I never saw her frown or exchange words with my dad; neither did anybody come to settle rift for them. She doesn't see fault in what anybody does except if she is preaching to you to give your life to Christ. That is even when you will hear her voice. I'm happy we gave her that befitting burial she truly deserved.