Crime News
1 Killed As Building Collapsed On Moore Road In Ile Ife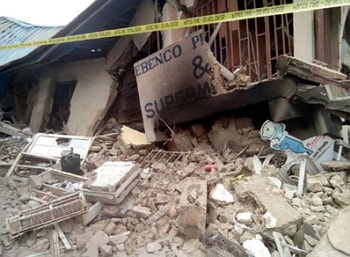 A man died on Saturday night after a building collapsed on Moore Road in Ile Osun state.
The victim of the building collapsed is an unidentified young man who was found in a state of coma beside the debris around 11pm.
Sympathizers rushed the victim to Obafemi Awolowo University Teaching Hospital where he was pronounced dead.
Eyewitnesses said there was a loud noise and heavy dust before the building caved in .
It was gathered there was a controversy over ownership of the house after the death of the owner.
A popular surveyor who lives in the area, Mr Olagbaju Kunle said the manner in which the building collapsed was an indication of a security threat.