Crime News
Video: Cultists Kill 2 During Robbery Attack In Benin City Edo State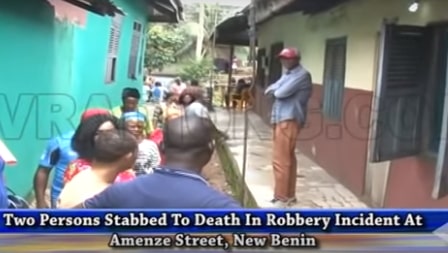 2 Stabbed To Death As Cultists Raid Homes In Benin City Edo State
At least 2 persons have been stabbed to death by armed robbers who raided Amenze street and environs Off Costain Road, Benin City, Edo state.

The cultists robbers robbed over eight houses in the area and inflicted injuries on anybody that does not have money to give to them.

Wife of one of their victims, Mrs. Erhun Ogiorio, said she begged the robbers not to kill her husband but the robbers refused.

According to her, "When they came in, one of them held a gun and the other one a knife. I told them we don't have money that my husband is a civil servant. I wanted to give them phones but they stabbed my husband in the stomach and the chest.
Another victim who is currently receiving treatment said he was stabbed twice by the robbers.
"When they came into my room, they asked me to lie down. The next thing I know was that I was stabbed. They stabbed me twice."
A victim who pleaded anonymity said they collected N70,000 from him after beating him before they moved to other house.
He said robbers used to terrorize them in the area.
Edo Police spokesman, DSP Chidi Nwabuzor, said it was a case of cult clash that was reported.
He said the police was yet to arrest any suspect.
"What we were told was that rival cult were fighting. Two persons stabbed. No arrest has been made."