Crime News
93 Nigerian Girls Trafficked To Mali Rescued by NAPTIP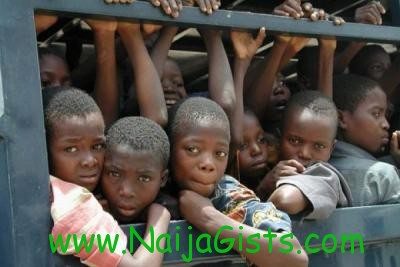 93 Rescued Girls
Nov 16, 2011 – 93 Nigerian Girls Trafficked To Mali Rescued by NAPTIP
The National Agency for the Prohibition of Traffic in Persons, NAPTIP rescued 93 Nigerian Girls trafficked to Mali for prostitution and other related matters.
Beatrice Jedy-Agba, The Executive Secretary of NAPTIP, at a briefing in Abuja on Tuesday, said that 9 human traffickers were also arrested with the support of the Malian authorities.
Jedy-Agba said the agency moved into action when it discovered that Nigerians were holding fellow Nigerians in slavery for prostitution in Mali. During the raid in Mali, the Agency discovered that some of the brothels housed young Nigerians between the ages of 14 and 17. (https://naijagists.com)
According to her, the operation to rescue the victims from Mali was necessitated by numerous disturbing reports from a variety of sources that the girls were being used as sex slaves.
The young girls will be rehabilitated before they are sent back to their states of origin and any of the victims who does not wish to return to her state would be adequately taken care of.
The nine suspected traffickers repatriated with the girls are currently being interrogated, and will be prosecuted by the Agency.
Jedy-Agba said human trafficking posed a threat to the security of a nation and its well being, adding that for the crime to be eradicated, all hands need to be on deck.
"In order to tackle the growing menace, there is a need to take a holistic and coordinated national approach to address predisposition factors.
"Such factors include poverty, ignorance, unemployment and the gradual erosion of our cultural values," she said.
The 93 victims are from 17 of the 36 states in Nigeria, with the largest number of them (49) being from Edo State.(dailytimes)