Crime News
Lekki Father Who Impregnated His Daughter Jailed – Yesiru Onajobi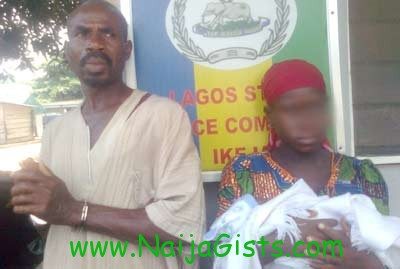 Yesiru Onajobi and Daughter
Nov 16, 2011 – Lekki Father Who Impregnated Daughter Jailed – Yesiru Onajobi
According to PM News, a Federal High Court in Lagos state Nigeria this morning ordered that a Lekki farmer, Yesiru Onajobi who impregnated his daughter (incest) should be transferred from the custody of the National Agency For the Prohibition Of Trafficking In Persons, NAPTIP, to Ikoyi Prison.
Justice Pat Ajoku issued the order sequel to the request of the NAPTIP prosecuting counsel, Barrister Olurotimi  Ilori, that the suspect should be transferred to Ikoyi Prisons.
The counsel complained that apart from feeding the farmer, Onajobi has become a burden to the NAPTIP.
Ilori said the farmer is the only one in the NAPTIP custody. Therefore, arrangement has to be made for security operatives  to keep watch over him day and night.
Meanwhile, the defence counsel, Mr. Akpomereta from the Legal Aid Council of Nigeria, AA, has filed an application before the court urging it to dismiss the charge against Onajobi.
Akpomereta argued that the court lacked the jurisdiction to hear or entertain the charge on the following grounds:
One, criminal proceeding at the Federal High Court can only be instituted in the name of the Federal Republic of Nigeria as the complainant and not otherwise.
Two, that the accused did not commit any offence under the provisions of the National Agency for Prohibition of Trafficking in Persons and to her related matters, NAPTIP law.
The counsel also said the NAPTIP does not have the locus standi to prosecute the accused, having regard to NAPTIP law which delimit the scope of the law to generally cover cases of trafficking in persons and not otherwise.
The defence lawyer also said Mr. Ilori, being a staff of NAPTIP, is not competent to sign the charge.
However, in a counter affidavit to the preliminary objection sworn to by a NAPTIP investigating officer, Oluremi Oludare which was averred before the court by the NAPTIP prosecutor, Ilori, he contended that Ilori who is an officer in the office of the Attorney General of the Federation, is competent to prosecute the case, arguing that the NAPTIP  is an agency under the Office of the Attorney General of the Federation.
He stated further that the agency is empowered to prosecute offenders who engage in the trafficking of persons and other related matters. And the offence committed by the accused falls into this category.
Prosecution, therefore, declared that  the court has jurisdiction to entertain the matter and urged it to dismiss the preliminary objection.
Akporemeta said he has filed another counter affidavit to Ilori's affidavit. But the reply  has not been filed in the court record.
Consequently, Justice Ajoku adjourned the case till 21 December for the objection to be argued by the two parties.