Nollywood
Adesua Etomi Odd Look On Vogue Magazine Cover Sparks Mixed Reaction
Vogue Magazine Makeup Artist Slammed Over Adesua Etomi Odd Look On Magazine Cover
Nigerian  celebrity Tosin Silverdam has come after the wife of Banky W for accepting to feature on Vogue Magazine cover.
In a tell it all post on Instagram, Silverdam said Etomi's photo is so disappointing because she looks inferior to the other cover girls.
Here is what she wrote via her Instagram page @ @tosinsilverdam
"Honestly, I am not surprised this @adesuaetomi's vogue magazine cover didn't the break the internet. Although, this is a great feat and deserve somewhat celebration but sincerely speaking, this cover is quite disappointing. I'm not a hater, she looks like a slave on this cover. She looks so inferior compared to the other ladies on the cover, what did they do to her skin tone? She looks so bad and almost unrecognizable, when I first saw the cover, I didn't even know she's the one. @adesuaetomi is extremely beautiful but then again, she looks so odd and more like a slave to the other girls. She should have complained about the cover, this is not impressive at all. No wonder it didn't break the internet.

Anyway, some argued she doesn't deserve this space, oh well, also the magazine regarded her as one of the biggest actresses in Africa. Seriously? Well, the likes of @genevievennaji, @realomosexy @ritadominic or even @funkejenifaakindele are veterans and they are too big for this type of cover, especially sharing space with other actresses. I would be disappointed if any of these big actresses accept this offer. But come to think of it, if @genevievennaji is actually on this cover, damn those melanin will be popping out gracefully… #adesuaetomi #instablog9ja #bankyw #tundeednut #genevievennaji #omotola #funkeakindele."
Truth be told, Adesua Etomi's look on Vogue doesn't portray her beauty.
How can they even give our beautiful Adesua this annoying 80's look.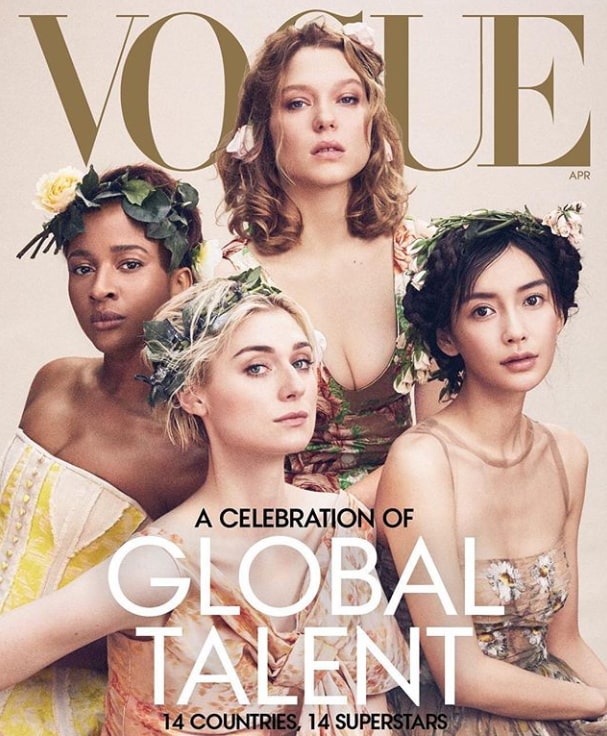 Check out her dress compared to the 3 others…. Systemic racism in full force. #evil world!.