Crime News
Alao Akala's Corruption Trial Update: Ibadan High Court Judge Rejects Plea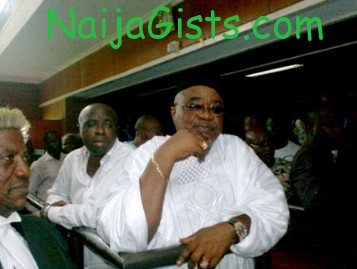 Dec 12, 2012 – Alao Akala's Corruption Trial Update: Ibadan High Court Judge Rejects Plea
JUSTICE Akintunde Boade of the Ibadan High Court has declared that former Oyo state governor, Otunba Adebayo Alao-Akala, Senator Hosea Agboola alias Halleluiah and Femi Babalola standing trial on allegation of N11.5billion fraud brought against them by the Economic and Financial Crimes Commission (EFCC) have a case to answer
The decision of the court invalidated the accused persons' application seeking to quash the charge against them.
The 11-count charge preferred against them includes conspiracy, illegal award of contracts, obtaining by false presence, acquiring property with money derived from illegal act, and concealing the ownership of such property.
Before today's ruling, counsel to the accused persons, Prince Lateef Fagbemi (SAN) had filed a preliminary objection to the charge, asking the court to quash it as it did not disclose any substantial evidence to warrant the accused persons standing full trial based on the allegations.
The defence counsel had asked Justice Boade to strike out or dismiss the charge, noting that it was sheer oppression and abuse of power to put anybody on trial on the offence that was not proved.
The prosecution led by Mr Godwin Oblah however told the court that the plethora of evidence adduced by the EFCC against the accused persons deserved an explanation, praying the court to discountenance the application seeking to quash the charges.
Justice Boade of the Ring Road High Court 2, Ibadan, in his 40- minute ruling today said that the application to quash the charge was not meritorious and was therefore dismissed.
According to him, the three accused persons have some things to explain, stressing that "I am of the strong view that the proof of evidence is established against the accused persons".
He had said that having taken the pleas of the accused persons in line with the provision of Section 167 of the Civil Procedure Law, the accused persons could not challenge the jurisdiction of the court.
On the claim by Alao-Akala that he was not a public officer and so could not be tried by the EFCC, the Judge found otherwise, quoting relevant authorities to support the fact that the application to quash the charge lacked merit.
Leading the defence counsel was Mamman Osumor (SAN), who after the ruling, commended the judge for his industry, but said, "notwithstanding, we do not accept this ruling as a correct position of the law.
"For us the lawyers, who are counsels to the three accused persons, our legal opinion is that the position taken by the Judge is erroneous in law. But because we are not the litigants, or the accused persons, we will await further instructions from our clients", Osumor said, indicating that the ruling might be appealed.
To give the signal that the ruling was likely to be appealed, Osumor had requested that the Certified True Copy (CTC) be ready on time, to which the Judge said would be ready within seven days. [Source]