Crime News
Arrested Drug Dealer Excretes 90 Wraps Of Cocaine In 14 Days – NDLEA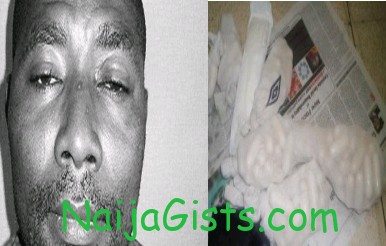 Dec 23, 2012 – Arrested Drug Dealer Excretes 90 Wraps Of Cocaine In 14 Days – NDLEA
A suspected drug trafficker recently excreted 90 wraps of a substance believed to be cocaine in 14 days.
The suspect, Peter Onyeagba, 40, allegedly tested positive for drug ingestion after his arrest at the Murtala Mohammed International Airport in Lagos during an inward screening of passengers on a Kenyan Airways flight. He was arrested by officials of the National Drug Law Enforcement Agency.
NDLEA Airport Commander, Hamza Umar, confirmed the arrest. He said, "Onyeagba is the longest observed drug suspect since January 2012.
He began excretion the day he was arrested and took two weeks to complete observation. Some others conclude the evacuation of ingested drugs in three days, while a majority last for a week. This is the longest observed case since January."
Onyeagba, who sells building materials for a living, is a resident of Lome, Togo. After travelling to Brazil on Nov. 15, 2012 through Ghana, Onyeagba reportedly spent two weeks in Brazil before his return to Nigeria.
Ingested drugs, according to the agency, could last for a few weeks with minimal effects on a courier if the pellets of drugs remain sealed. It could however kill in a few minutes if there is a leakage.
Onyegaba told CRIME DIGEST that he was a victim of greed. He said, "I have been selling building materials in Togo for over 10 years. I was on a business trip to Brazil with $8,000 and had planned on visiting Nigeria. Some of my friends that we usually meet in a drinking bar introduced me into drugs.
"They told me that instead of going back to Nigeria with nothing, that I should take some drugs and earn $3,000. I was not forced to smuggle the drug; I only decided to give it a try after much persuasion. I was interested in making an additional $3,000."
The Chairman/Chief Executive of the NDLEA, Ahmadu Giade, reiterated the agency's decision to continue the fight against drug traffickers. He said, "One of our strategies is to be vigilant and ensure that any suspect caught is duly prosecuted to deter others. Most suspects are just lured by greed."
[Punch Crime Digest]