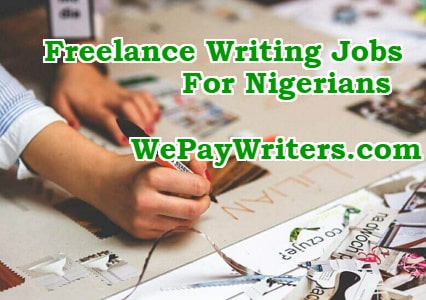 Article Writing Job Openings For Freelance Writers In Nigeria
Nigeria's Best Freelance Writing Jobs Platform Hiring Beginners, Entry Level Freelance Writers In Nigeria
If you have what it takes to write excellent articles, NG's partner site, WePayWriters.com is interested in hiring you.
You must be willing to learn and have team spirit.
WePayWriters.com currently has 678 job openings for freelance writers in Nigeria.
If you are a not a Nigerian but have access to bank accounts in Nigeria where you can receive your pay, you are also invited to apply.
To apply for our  new freelance job openings in Nigeria, send your CV and a unique article of over 500 words to uniquecontentpro@gmail.com.
Don't worry if you are not a perfect writer but as long as you are passionate and have good command of English language, we are willing to train you.
We have trained over 700,000 writers till date.
Don't forget to register below to get frequent updates.
To get notified of new job openings, register below, it's absolutely FREE
For employers looking for qualified writers, we have over 800,000 creative freelance writers willing to take on your projects.
For more information write us at uniquecontentpro@gmail.com.