Crime News
Monarch Murdered By Hired Killers In Mgbe Orlu Imo State, Corpse Dumped Along Orlu Owerri Expressway
Eze Ibekwe Brendan Assassinated: Traditional Ruler Of Mgbe Community In Orlu Imo State Killed By Gunmen Who Dumped His Corpse On Expressway
The corpse of a popular monarch who was murdered in Imo state last week has been found.
The deceased identified as Eze Brendan Chukwudi Ibekwe was murdered last week Sunday afternoon by some gunmen who invaded his palace in Mgbe, Orlu Imo state.
After killing their target, the gunmen who took his Royal bead, wrist band and iPhone later dumped his body along Orlu Owerri expressway.
Those who witnessed his murder, said the gunmen acting on phone instruction shot the monarch severally at close range and hurriedly carried his corpse which was still dripping with blood into their car and fled.
They later dumped his corpse on the aforementioned highway.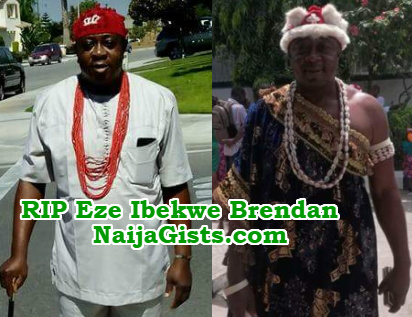 Two people have been arrested in connection with the gruesome murder of the monarch.
May his soul rest in peace.