Daily Health News
Autism Awareness In Nigeria: What Every Nigerians Must Know About Autism Causes, Symptoms & Management Options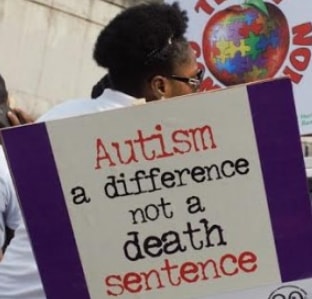 By S. Nwankwo
When I was 13, I went over to visit a good friend of mine. Sandra was a class mate and we lived just a few streets apart. At her house I met her siblings, her sister, Faith, and one of her younger brothers. I knew she had 2 younger brothers because she had told me but when I didn't see a second brother I didn't think much of it. We got drinks and were sitting in the living room watching episodes of "wizards of waverly place'' on Disney channel when her other brother joined us.
His name was Charles. Outwardly he looked normal but something didn't seem quite right with him. I just knew I didn't want to sit close to him and he scared me a little bit at that young age. He didn't talk much either. In fact, aside the grunt of accent when he was offered a drink he didn't say a word. After a few minutes he spoke, he asked that we change the channel. His words came out a bit jumbled, like a child, but I was pretty sure he was about 10 years old at the time. His siblings completely ignored him but I couldn't draw my eyes away from him.
In a flash Charles tossed the glass, which contained the fruit juice he had just been drinking, across the living room to the wall where the television set hung and the he broke down into the loudest shrilled screams I had ever heard, tossing the throw pillows in the air and up turning the centre table. I had never seen anything like it. Sandra rushed to him and calmed him down. I honestly do not remember what it was she did but he calmed down and went right to the dining area where she turned on another movie for him. I was scared and in shock. Sandra later on explained to me that her brother was ''Autistic". I had never heard the word before but that was my first experience with an autistic child.
Autism or Autism spectrum disorder is a series of condition characterized by challenges with social skills, repetitive behavioural patterns, speech impairment, non-vocal communication cues alongside unique strengths. Each individual living with autism is unique and might sure have some unique symptoms and strengths.
There are about 100 thousand diagnosed cases of autism per year in Nigeria but unfortunately autism is not getting the publicity that it requires in this part of the world. This means that often times these children do not get the help they need to live fully functional and productive lives. Most of them are usually just dismissed as ''imbe''.
Causes Of Autism
Although autism is thought to be idiopathic most of the time. Its occurrence has been linked to Rubella / German measles infection in the mother, Tuberous sclerosis, Fragile x syndrome, encephalitis and untreated phenylketonuria. These are however, not the only certain causes of autism.
Symptoms Of Autism
Children with autism often show social deficits from as early as 8 months where they are unable to maintain eye contact or engage in ''give and take'' activities.
They also have language impairments, mood disorders [especially anger outbursts], repetitive behaviours, anxiety disorders, obsessive compulsive disorder, attention deficit hyperactive disorder, seizures, immune dysfunction and gastro intestinal disorders.
Children with autism can also show Pica, which is eating items that are not food like dirt, clay, chalk or paint chips. It is normal for children between 18-24 months to do this but for the autistic it extends to way beyond this age so they have to be watched closely all the time and tested occasionally for lead poisoning.
Treatment and Management Of Autism
Pharmaceutical treatments for autism are yet to prove effective and hence for now autism has no cure. As a matter of fact, drugs do very little beyond relieving some basic symptoms.
Stem cell therapy treatment for autism is still under testing and as such is not yet open to the general public.
Numerous forms of therapy have been known to greatly improve the quality of life of autistic children ensuring that they grow into healthy functional adults. Therapies including physical therapy, speech therapy, behavioural and occupational therapy along with special education can improve the quality of life of autistic people.