Crime News
Onimole Babatunde, Ex-Lagos Councillor Arrested For Stabbing A Girl He Met At Night Club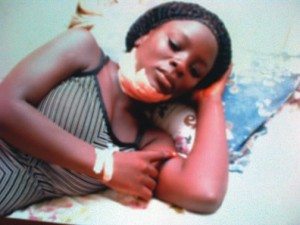 Nov 2nd, 2012 – Onimole Babatunde, Ex-Lagos Councillor Arrested For Stabbing A Girl He Met At Night Club After She Refused Intimacy
Mr Babatunde Onimole, a married man, ex-Councillor of Amuwo-Odofin LGA of Lagos State Nigeria has been arrested and detained in Festac after he allegedly stabbed a girl,18, who he met at a night club in Lagos after she refused him intimacy. naijagists.com
On Oct 26, Mariam Abubakar went to catch some fun with some friends at a popular Pearl Harbour Night Club located in Rochester Garden Hotel in Festac Lagos.
According to Mariam's friend, Babatunde Onimole who appeared drunk at the night club started making advances to Mariam who turned him down.
"She was not interested in him so she did not answer when he called her. He was dancing and Mariam (Abubakar) was sitting at a table. He was obviously drunk and he came to pull her.
"He was manhandling her and she insisted he should leave her alone. This did not go down well with Babatunde and he was really angry. He went to a corner, took a bottle, broke it and stabbed Mariam in the neck." – Mariam's friend said
Babatunde Onimole reportedly fled the scene after she stabbed Mariam on the neck at around 1:30am.
Mariam who suffered serious bleeding was rushed to a Naval Hospital in Ojo by some good Samaritans
She was rejected at the Naval Hospital because the people who took her there could not produce a report.
Mariam went into coma as she was being taken to Ajeromi General Hospital where she was revived.
According to a nurse at Ajeromi Hospital, Mariam who lost 20% of her blood is currently under intensive care.
However, the police said the night club workers destroyed evidence at the scene of the alleged crime by cleaning up Abubakar's blood on the floor.
The hotel has currently been sealed off by the police because the management did not report the incident.
It was learnt that the police got wind of Babatunde's whereabouts, said to be holing up somewhere in Ikoyi and called him to simply come and write a statement. But he was detained immediately he got to the station. (Punch Report)