Crime News
Baby Boy Dumped In Bush By Mother Found Alive 2 Days Later With Umbilical Cord Still Intact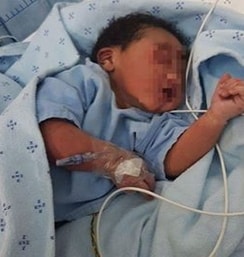 Newborn Baby Boy Rescued Alive 2 Days After Mother Dumped Him In The Bush
A miracle baby dumped in the bush by someone suspected to be his mother has been rescued.
According to SA Metro, the infant was rescued by a police officer in Port Shepstone area of South Africa on Tuesday.
How he managed to survive the bitterly cold weather in the area was a stroke of luck as his umbilical cord was still intact as at the time he was rescued late last night.
The newborn is currently receiving medical treatment at an hospital in Albersville.