Crime News
Bill Oxley Death Bed Confession: Former CIA Agent That Killed Bob Marley With Cancer Causing Viruses & Bacteria Confesses
Bill Oxley Death Bed Confession: Former CIA Agent That Killed Bob Marley With Cancer Causing Viruses & Bacteria Reveals How The Assassination Was Carried Out 
Although the CIA had denied involvement in the murder of Reggae legend Bob Marley, a new report by Daily Star UK has resurrected the story.
The report many US media outlets called fake stated that 79-year-old former CIA agent, Bill Oxley killed Bob Marley with cancer causing viruses and bacteria which was present in a pair of shoes he presented to him as a gift.
In his death bed confession, Oxley said he was used as a hit-man on targets deemed as a threat to the United States.
On the day he injected lethal cancer causing bacteria and viruses into Marley, Oxley gained access to his home using fake press credentials.
He presented himself as popular photographer working for New York Times and requested for an interview.
He gave him a pair of Converse All Stars shoes Size 10 with pin tainted with cancer causing agents .
Out of excitement Marley tried on the right shoe and screamed out "OUUUCH" after the pin pierced his skin.
He said from there on, Marley never recovered.  He reportedly died after 4-year battle with cancer.
Here is the viral confession of the former CIA agent.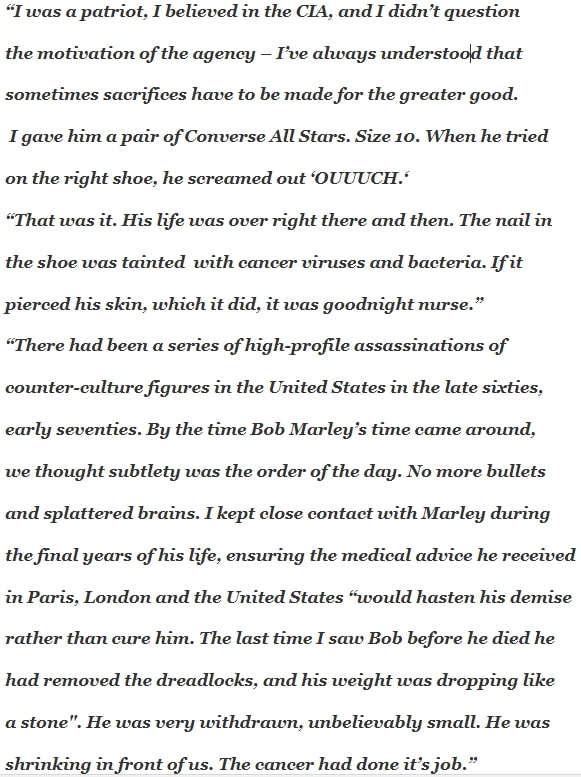 According to the Daily Star, 17 high profile assassinations carried out between 1974 and 1985 were traced to Oxley.
When asked in an interview back in 2013 on what killed his father, Bob Marley's son Ziggy said he doesn't know what to believe because of too many conspiracy theories surrounding the death of his father.
Almost every news outlets in the United States reported this as fake for obvious reasons.