Crime News
Jilted Man Kills Ex-Girlfriend In Bangkok Thailand University, Attempts Suicide After Hugging Her Corpse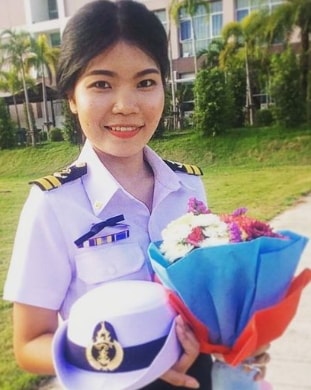 University Student Murdered By Ex-Boyfriend At Her University Auditorium In Bangkok Thailand This Morning
A lady identified as 21-year-old Thaprajit Natchareeya was today murdered by her ex-boyfriend 24-year-old Chittarom Pukkapong  as she was heading to class.
According to police investigation, the pair met about 5 years ago only for Thaprajit to break up with him after she gained admission into University.
According to footage captured on CCTV at Natchareeya's dorm, she was heading to class around 11:30 am at Suan Sunandha Rajabhat University in Bangkok when her ex suddenly emerged and as she turned to walk away from him, he shot her in the chest at close range.
He later attempted to take his on life after hugging her bloodies corpse but didn't succeed.
The killer boyfriend is currently under the watch of a police guard at an hospital where he was rushed to as police make contact with the family of the deceased.