Crime News
Buhari Police Force Locks Freedom Fighter Comrade Olawale Adebayo In Detention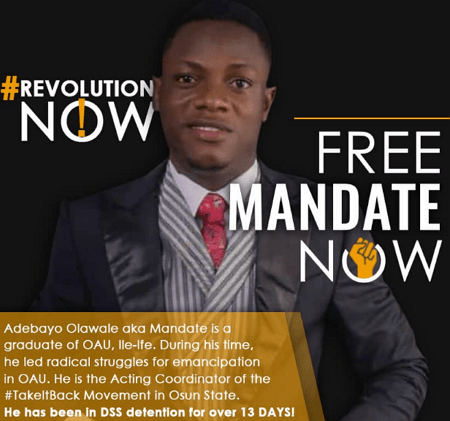 Buhari Police Force Locks Freedom Fighter Comrade Olawale Adebayo In Detention
Comrade Olawale Adebayo popularly known as Mandate is not a Boko Haram terrorist nor armed Fulani herdsman nor kidnapper nor armed bandit. He believes that Government must listen and yield to the yearnings and plight of the over 89 million Nigerians living in extreme poverty who are struggling day and night for survival.

Olawale Adebayo was arrested on Monday, August 5, 2019 by men of the Department of State Services (DSS) in connection with #Revolutionnow Protest. Obviously, the Mandate's arrest and detention for over 21 days is clear indication that his position cannot be comprehended by the Police Force.

Mandate, a graduate of Obafemi Awolowo University, Ile-Ife believes that Education should be properly funded. He believes the FG should budget at least 26% of its budget to the educational sector as recommended by UNESCO for any developing country. He believes in a economy that works for all, employment for the unemployed youths, implantation of the N30, 000 minimum wage, regular payment of pensions amongst many others.

Mandate is over 3 weeks in DSS custody. According to reports, he has been severely tortured both physically and psychologically by the men of DSS. He has not been convicted of Murder nor Manslaughter, even Boko Haram terrorists and armed Fulani herdsmen captured were never prosecuted but rather given amnesty by the government but a peaceful protester will now be tortured.
This shows indirectly that our government is a promoter of insurgency and insecurity in the country. The government does not give room for objective criticism but dances naked with myethi Allah, Boko Haram and Fulani herdsmen.
Nigerians both home and abroad should rise and seek justice for Olawale Adebayo Mandate by calling on DSS to respect human rights. Today is 21st Day without access to health facilities as he is in a bad state of health as confirmed by a DSS cell mate. Government must be taken to people's court if the Judiciary isn't a place for the common man rather for themselves in government.
The demands of the #RevolutionNow Protest remains the same; Better funding of the education sector to at least 26% according to the UNESCO recommendation, economy that works for all of us, no to increment in pump price, no to estimated electricity billing, end to systemic corruption and end to insurgency and insecurity in the country. This is what Olawale Adebayo mandate stands for and an injustice to Comrade Olawale Adebayo mandate is an injustice to all the poor masses in Nigeria.
Our future, the future of the unborn generation needs to be secured from the political hyena in our government. They don't use public hospital, public schools, use public things at the expense of the masses, the economy is stouted in 2019 but by 2023, money will start rolling out to persuade us for another 4 years. Let us take them up! Mandate must regain freedom.
#FreeMandateNow